Karey Burke is the president at ABC Entertainment, responsible for all development, casting, programming, marketing, business affairs, and scheduling operations for ABC primetime– late-night and daytime. She reports to Dana Walden, the chairman of Disney Television Studios and ABC Entertainment.
Since joining the ABC in December 2018, Karey has developed some of the widely viewed and acknowledged television events including "Live in Front of a Studio Audience: Norman Lear's 'All in the Family' and 'The Jeffersons,'" and "The Wonderful World of Disney presents The Little Mermaid Live!".
Karey Burke's Wiki (Bio): Career
Karey Burke was born in Orange County in America. She graduated magna cum laude and Phi Beta Kappa from UCLA with a degree in Communication Studies.
Keep Reading From NBC Personalities: Rutledge Wood Married, Wife, Gay, Family, Net Worth, Bio
She then began her television career as a comedy development assistant at NBC, where she quickly "moved up the ladder" and got involved in the production of all comedy and drama programming, including West Wings, Will & Grace, ER.
Also, during the time, she supervised the development of series Freaks and Greeks, American Dreams, Law & Order: Criminal Intent, moving onto the role of a senior vice president of Primetime Series (from 1996 to 1999). During the time, she worked in the development and production of Friends, Mad About You, Providence, and Just Shoot Me.
Married- Wedding
Karey Burke is married to writer-director Michael Duggan. The pair had a surprise wedding ceremony on 2019's Christmas Eve.
The nuptials took place in her living room with Warner Media's Kevin Riley officiating the vows. Later, Karey revealed the big news to VARIETY during 2020 Golden Globes' after-parties.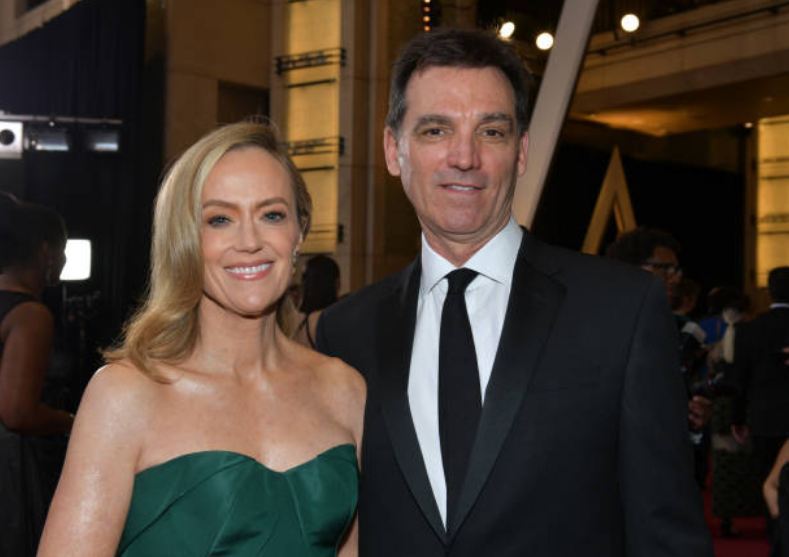 Karey Burke and her husband, Michael-Duggan attend the 91st Annual Academy Awards at Hollywood and Highland on 24 February 2019 in Hollywood, California (Photo: gettyimages.com)
Earlier, The Hollywood Reporter mentioned in an interview with Karey on 26 March 2019 that the pair, before they married, lived together in Santa Monica.
Children
Karey Burke is the mother of five children ranging from 15 to 24 (as of 26 March 2019). Amongst her kids, her son is transgender.
Get To Know The Youngest News President In The History Of American Television: David Rhodes Bio, Wife, Married, Divorce, Children, Family, Salary, CBS
She spoke to The Hollywood Reporter on 2 February 2020 about how she did not know what to do and who to call during her son's coming out time. Also, she mentioned her son being a patient of Dr. Johanna Olson-Kennedy, a longtime physician at The Center for Transyouth Health and Development. Karey credits Dr. Johanna for not only changing their lives but also for saving her son's life.
All in all, the father of Karey's kids remain a mystery.
More Facts On Karey Burke, Age
Karey Burke is 53-years-old as of 25 September 2019.

Under her leadership, the ABC network was announced, the "No. 1 broadcast network for 2019 (excluding sports)" for the first time in 24 years.

Karey replaced Channing Dungey, the first African American to lead a U.S. broadcast network, in her role as president in ABC Entertainment.