The ex-husband of Gillian Anderson famous for the role of an FBI Special Agent Dana Scully on the popular drama series The X-Files, Julian Ozanne is a photojournalist and a documentary producer.
He has four credits as a producer chiefly 'Here to Where' in 2002, 'Lara Croft: Lethal and Loaded,' a Video documentary in 2001.
In 1999 Julian did 'This Is Not an Exit: The Fictional World of Bret Easton Ellis,' a Documentary and 'Panorama,' a TV Series documentary in 1997.
He also directed a documentary titled 'Armani: A Man for All Seasons' in 2000. Julian was once a correspondent with the London Financial Times.
Julian Ozanne's Marriage to Gillian Anderson
Julian spent a lot of time in Africa with his then-wife Gillian Anderson when they were still married.
Moreover, his then-wife Gillian was married twice and divorced twice. Before Julian, she was first married to Clyde Klotz, an assistant director of The X-Files.
In the same series, Gillian played the lead character and from the same character, she earned a huge recognition.
Moving back to their married life, Gillian and Clyde exchanged their wedding knots in 1994 on the special occasion of New Year.
Don't Miss: Amymarie Gaertner Wiki, Dating, Family, Net Worth
In the same year, they also welcomed a baby daughter, Piper Maru on 25 September 1994. 
Un fortunately, the marriage could not work and the two had to part ways eventually divorcing in 1997. 
Later, after parting the ways, Gillian first met Julian in Kenya when he was still working for a British Newspaper.
The marriage which ended in April 2006 lasted for only 16 months.
Looking at the statements their lawyers put out during the divorce, the split was hard on both partners, especially Julian, which reads as follows,
"Gillian Anderson and Julian Ozanne are saddened to announce that their marriage is at an end and they are in the process of separating."
Anderson who hails from Chicago married Julian on Dec. 29, 2004, on Lamu's Shella island, off the coast of the Indian Ocean, near Kenya.
The marriage was even delayed for a year before finally materializing.
It was held with only a couple of close friends where the immediate family members from Anderson had flown from the U.S.
The wedding was marked with Gillian's eleven-year-old daughter serving as a bridesmaid.
Later Anderson and her daughter lived with Julian in London.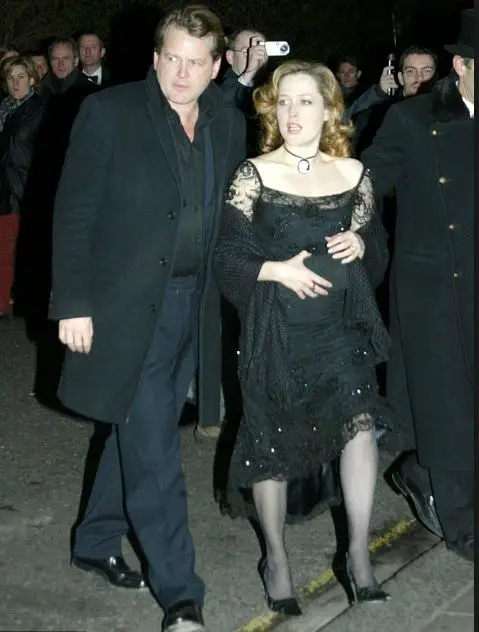 Julian Ozanne and His Ex-Wife Gillian Anderson split in April 2006 (Photo Credit: Dailymail)
During his dating and marriage to Gillian, Julian was Financial Time's Africa bureau chief and a financial consultant plus a director of a biofuels company.
After the announcement of the separation, Gillian Anderson gave birth to a child after just over six months through the divorce, for which Julian was said to be asking for the paternity test of the child.
The relationship which was marked with both spouse spending time in Africa eventually ended within less than two years.
After the divorce Julian's ex-wife, Gillian moved on and opened the door of her heart for the businessman Mark Griffiths. 
The two briefly started dating and was also notably her longest-running relationship. 
Although Gillian and Mark did not take their relationship to the next level they were happy together. 
Check Out: Juan Castano Age, Wife, Gay, Family
During their romantic relationship, the two welcomed their son Felix on 15 October 2008. 
Sadly, while everything was going perfectly the internet broke down after the news of their break up came out. 
As regarding Julian, he kept his personal life away after his break up with his then-wife Gillian. 
Julian Ozanne's Bio:
Julian Ozanne, is a film producer who was born in Kenya and went to London to study at the LSE.
He is around 54 years of age and had once worked in Washington for a Democrat congressman.
Julian was a correspondent for the Financial Times for nine years and then joined a production company Bedford Square.
He is an outspoken critic of the Zimbabwean Government and has been a spokesperson for the Zimbabwe Benefit Foundation.
According to the wiki, it is said that he was raised in the palace of King Moshoeshoe II of Lesotho.