Josh Klinghoffer is a Los Angeles-based musician and producer. He toured and performed with a significant number of talented musicians showcasing his exceptional skills with the guitar, bass, drums, and keyboards.
Josh started practicing music right from a very early age- taking piano lessons at home and attending band camp.
In the days to come, he even dropped out of high school to become more indulged in playing and performing. 
Josh Klinghoffer Parted Ways with Red Hot Chili Peppers!
Red Hot Chili Peppers, the band that already booked plenty of U.S. shows for the year 2020, bade farewell to Josh, its lead guitarist of almost ten years.
Keep Reading: Dylan Jagger Lee Bio Unveils Net Worth, Age, Brother, Girlfriend
On the 16th of December, Red Hot Chili Peppers wrote on its official Instagram page that they were deeply grateful for the time together and countless gifts Josh shared with them.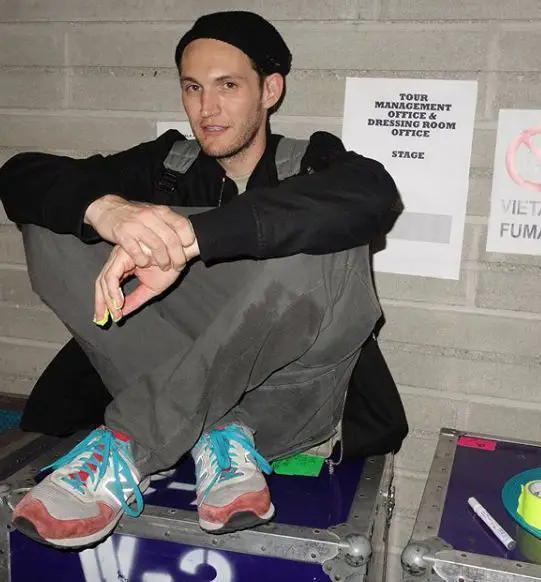 Red Chili Peppers wishes Josh Klinghoffer on his birthday on 4 October 2019 (Photo: Red Hot Chili Peppers' Instagram)
Same time, they also announced that their former team member, John Frusciante, would be rejoining the group.
Looking back, Josh, for the first time, rose to fame performing with The Bicycle Thief. After recording an album, the band opened for the Red Hot Chili Peppers while on the "Californication" tour in 2000.
Josh then formed this amiable friendship with John Frusciante, the then-guitarist for the Red Hot Chili Peppers, and the newly-founded buddies even began writing tracks together. Eventually followed several guest performances with the Red Hot Chili Peppers, but it was only in early 2009 that he joined them officially.
Josh stayed with the band, playing on the band's last two studio albums- I'm With You (2011) and The Getaway (2016).
Age / Birthday
Josh was born as 'Josh Adam Klinghoffer' on the 3rd of October in 1979 in Los Angeles, California.
Married / Girlfriend?
Josh dated Polly Jean Harvey, an England-born musician, and singer-songwriter, from the year 2004 to 2005.
Get To Know: Jasper Dolphin Net Worth, Parents, Dating, Girlfriend
While in recent times, there is not any update to Josh dating life.
His Net Worth
Josh, who founded his own band, Dot Hacker, in 2008, and since then got involved in a number of music groups, now accumulates a net worth valued at $10 million.
Interesting Facts On Josh Klinghoffer!
Josh learned to play guitar on his own- going along to Red Hot Chili Peppers and Pearl Jam records.

He once said that listening to Radiohead made him want to form a band.

At thirty-two, he got enlisted as the youngest-ever living person in the Rock N Roll Hall of Fame (2012) as a member of the Red Hot Chili Peppers.

His parents are named Steven and Kathleen Klinghoffer.

His solo debut album entitled, To Be One With You was released on November 22, 2019.

He was fired from his first job at Tempo Records in Northridge citing the reason as insubordination.