Jennifer Arnold is famous as one of the iconic television celebrities besides being an active physician.
She is the star cast of the TLC's series, The Little Couple. The series features Jennifer, her husband, and their two adopted children showing their struggles and how they face them.
Talking about Jennifer's earnings, she earns both from her medical career and her shows. As of 2019. She shares a net worth of $3.5 million with her husband. 
Married To Husband, Divorce
Jennifer Arnold is happily married to her husband, Bill Klein. Bill, standing at the height of 4 feet (1.22 meters), works in medical supplies and telemarketing.
The couple's love story goes back to their childhood with their first encounter at a hospital, both recovering from surgery.
After that, they remained unknown to each other and met only in their twenties through a dating website.
They began getting closer after their first meeting and started dating. After some time, they got married in 2008.
See Also: Susan Kelechi Watson Married, Husband, Parents, Height, Bio
As of now, the couple has two adopted children, one son, and one daughter.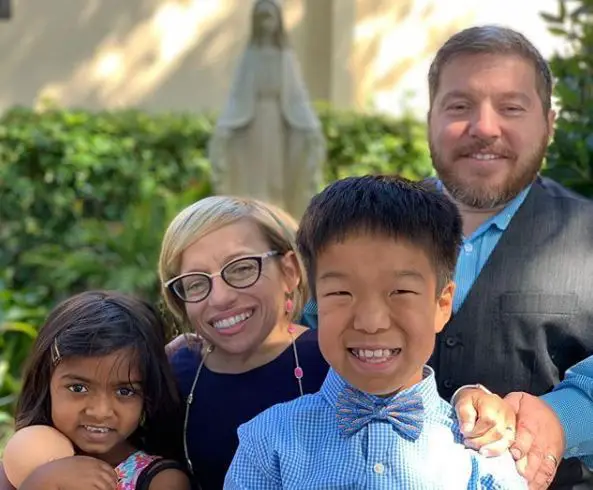 Jennifer Arnold with her family on 21 April 2019 (Photo: Jennifer Arnold's Instagram)
Their son, William Rijin Klein, was born on 24th February 2010 in China.
The couple adopted him on 5th March 2013. And their daughter, Zoey Klein, born in 2011, was adopted by them from an orphanage in India.
Like their parents, Willian and Zoey have dwarfism, but they are being raised with all the love, support, and care from their parents, which can be seen in the family's The Little Couple.
Jennifer and her husband are happier and supportive in reality too. Though they are seen arguing sometimes, they have neither hampered their relationship nor thought of divorce until today.
Jennifer Arnold's Bio: Height, Age
Jennifer Arnold was born on 10th March 1974 in Florida, USA. She was born to her father, David Arnold, and mother Judy Arnold. Her father worked as a consultant for Chicken Soup of the Soul.
From a young age, Jennifer suffered from many problems because of dwarfism.
Despite being discouraged, she was strong and marched with hope. Her strength in tackling issues can be seen in her education. She was a brilliant student during her college years.
She attended the University of Miami, where she received her undergraduate degrees.
Then, she joined the Johns Hopkins School of Medicine and graduated with a medical degree in 2000.
She didn't stop with this and went to the University of Pittsburgh to get her Master's of Science in Medical Education.
Enjoy Reading: Lisa Joyce Married, Husband, Boyfriend, Age, Birthday, Bio, Height 
After her postgraduation, Dr.Jennifer has worked with different hospitals.
As of 2019, she is affiliated with Johns Hopkins All Children's Hospital located in Saint Petersburg, Florida, where she works as a newborn's physician or in medical term as a neonatologist.
She is an experienced physician with specialties in Neonatal-Perinatal Medicine and Neonatal Respiratory Failure and Lung Development. 
As everyone faces different problems in life, Jennifer also suffered one. She was diagnosed with a rare form of cancer on 6th December 2013.
Immediately, she went treatment, including surgery and chemotherapy. And in 2014, she announced that she was cancer-free. 
The 45-year-old Jennifer stands at the height of 3 feet and 2 inches (0.97 meters).