Janelle Ginestra Bio: Age, Married Life & Husband Details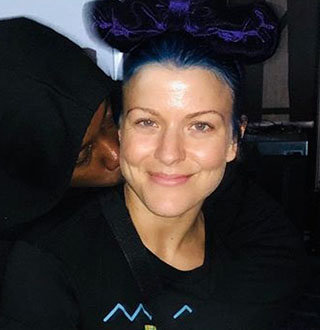 Janelle Ginestra is an accomplished dancer. She has worked with acclaimed choreographers Will DaBeast Adams and Dejan Tubin. Likewise, she is also credited for her work in Glee, The X Factor (US) and Fired Up.
She is also popular on YouTube —she owns a channel titled MissJannelleG.
Bio, Age
Janelle Ginestra was born on 14th May 1989 in California, the US. At the age of two, her desire to dance sparked. She took classes at a local studio until seven-year-old in her hometown of Santa Clara. After that, she moved to Los Angeles with her mother to pursue her dream of acting. Janelle landed on some commercials and jobs on TV shows.
Unfortunately, her commercials and jobs were short-listed after her mother took her back to Northern California to have a normal high school experience.
Dancer You May Know: Who Is Ysabelle Capitule? Facts On Her Personal Life & Family
However, a dance school in Modesto was not serious enough for Janelle and instead got her into competitive cheerleading. She trained at Starstruck Cheer & Dance, where she was connected with a rap artist named Jiggy. He enlisted Janelle as a choreographer and backup dancer for various events and concerts. 
Furthermore, after completing her high school, Janelle returned to Los Angeles and auditioned for "anything and everything." Her talent soon paid off earning her roles in Fired Up! and Bring It On: Fight to the Finish.
Married Details
Janelle Ginestra is married to Will DaBeast Adams.
They first met at a dance showcase where their friendship bloomed into a passionate affair.
Janelle Ginestra with her husband Will DaBeast Adams at Dubai on 21st February 2020 (Photo: Wild DaBeast's Instagram)
Finally, the couple got engaged in May 2017. Later in September 2018. Janelle and Will got married—they turned their relationship as dance partners to business partners and then life partners.
Husband Will DaBeast's Info
Janelle's husband, Will DaBeast, is an American dancer and choreographer. Her husband, who has been part of numerous prestigious dance competitions, now organizes competitions and dance face-offs with himself on the panel.
Other than that, Will also teaches dance in several reputed dance studios and owns a dance studio and own website.
Look For: Sarah Jade [Dave Bautista's Ex-Wife] Wiki Unveils Personal Life Info
Hailing from Indianapolis, Indiana, Will's first love was football and played the sports in his hometown. However, destiny had other plans, and Will ended up becoming a world-class choreographer.
Quick Facts
Janelle Ginestra's birth sign is Taurus. Likewise, her husband, Will's birth sign is Virgo.
Janelle has competed on the reality series Step It Up and Dance.
Her husband has danced for artists such as the Black Eyed Peas, Usher, and Jason Derulo.
She has also worked in movies like Alvin & The Chipmunks and Honey 2 and TV shows like "Glee," "The X Factor."
---