Hanna Prater is into the job of the fashion field and is reportedly working on her own line of fashion accessories.
Previously, upon her graduation, she worked in a print fashion industry and also made a name for herself by styling for the famous 'Look Magazine.' 
Later, she worked at the S. Oliver Fashion House, garnering much valuable experience from the fashion field. 
Although she has made a name in the fashion industry, Hanna stays out of the limelight, maintaining her privacy. 
Let's know what makes her fall into the spotlight as well as making her life a matter of interest. 
Dating & Wedding
Hanna Prater is married to her childhood friend Sebastian Vettel, a German racing driver. 
Hanna and Sebastian first met in Heppenheim Middle School and soon started dating.
More From Marrieddivorce: Ross Chastain Wife, Family, Height, Net Worth
But after their graduation, Sebastian moved to Switzerland for his racing career whereas, Hanna stayed in Germany.
However, the two maintained a long-distance relationship for a long time.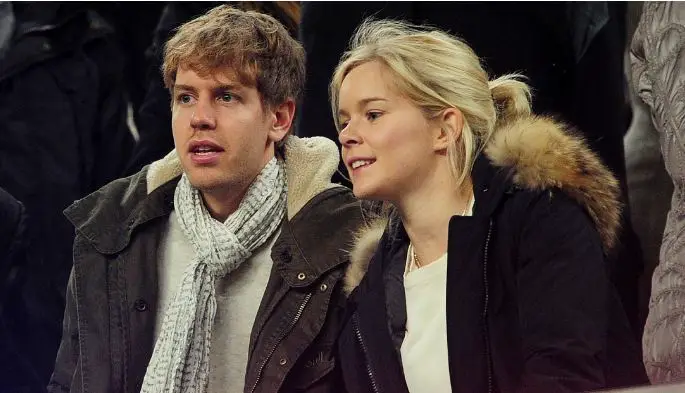 Hanna Parter with her husband, Sebastian Vettel (Photo: essentiallysports.com)
In 2010, the duo decided to take their relationship to the next level and started living together in Switzerland in a home purchased by Sebastian. 
In around 2019, Sebastian was spotted wearing a wedding ring, which hinted that they had exchanged their wedding vows privately.
Children Details 
Hanna and Sebastian have shared the news of expecting their third baby!
When her husband Sebastian was asked if they were expecting a boy or a girl, Sebastian dodged the question and said,
Well, I don't like to talk about my private life so thank you, but I think we will leave it there.
Furthermore, everyone congratulated them with open arms for them to happily welcome their healthy third child. 
Hanna and her husband are already parents of two children, Emilie, born on 12th January 2014, and Mathilda, born later the following year after Emilie.
Hanna Prater's Husband, Sebastian Vettel
Sebastian Vettel is non-other than a German racing driver who races in Formula One for Scuderia Ferrari. 
Sebastian is also a four-time Formula One World Champion and has won consecutive titles in 2010-2013 with Red Bull Racing. 
In 2015, he left Red Bull and joined Ferrari and is contracted to stay with the team until the end of 2020. 
During his first season with Ferrari, he won three races and was the closest challenger to the Mercedes drivers. 
Between the years 2017 - 2018 and June 2018 - June 2019, Sebastian earned $40 million worth of salary and endorsements.
As of now, his calculated net worth is said to be $120 million.
Don't Miss: Heather Locklear's Boyfriend Chris Heisser Wiki, Age, Arrested, Net Worth
Furthermore, for his success, Sebastian gives credit to his wife, Hanna. Hanna is like the right hand playing a significant role in his bother's personal as well as professional life. 
Hanna, on the other hand, does not like to seek attention and does not even accompany her husband to racing events despite being the wife of the famous racer. 
Wiki, Age
Hanna Prater was born in 1987 to an English mother and German father in Heppenheim. However, until now, detailed information on her family background is not known to the public. 
Regarding her education, she attended Heppenheim Middle School and Baden Wurttemberg Fashion School from where she majored in textile design.