Audiences worldwide have come to develop this obsession over Gracie Elliot Teefey, especially the diva of the music industry, Selena Gomez. 
Gracie is someone who was born with this magic-like ability to bring out the maternal side in the American singer, songwriter, actress, and executive producer, the most celebrated face in the entertainment, Selena Gomez. 
When it comes to the talk about Gracie, the mention of the famous name 'Selena Gomez' is obvious; it is all thanks to Selena that we get to witness the young and adorable Gracie grow up. 
Gracie Elliot Teefey's Bio: Age / Birthday 
Gracie was born on 12th June 2013 to her mother, Amanda Teefey, and father, Brian Teefey. And, the most interesting fact that should never go unnoticed in her bio that she shares the same mother with none other than Selena Gomez.
When Gracie stepped foot in the world, her family couldn't be happier.
Keep Reading: Lonnie Chavis Bio Talks: Age, Net worth, Parents, Siblings & Facts
With Gracie's arrival, the family yet again found their purpose of happiness that they had lost in the tragedy back in 2011.
Amanda, who was due with her baby girl, Scarlet, suffered the miscarriage in December 2011, just a few weeks after Selena had joyously proclaimed that she was soon going to be a big sister.
The incident pained the family, likely in the way one feels when they lose their loved ones to death.
Meanwhile, born as the half-sister of Selena, Gracie, right from the very beginning, was meant to be surrounded by the limelight.
But then, her big sister's tendency to remaining low profile more in the past years helped a lot in Gracie's upbringing.
And, with time, she would undoubtedly learn to cope with the fame she has been born into.
Now: Gracie's Relationship With Selena Gomez
At this point, it is not a secret that Selena is super attached to her lovely sister. The Lose You To Love Me star has sure taken her little bundle of joy under her wings.
Selena has always been the role model for girls her age, and now, with one more added responsibility of a big sister, she considers everything even more sincerely.
Her only aim when it comes to Gracie is to see her grow into a woman- stronger, bolder, and definitely beautiful. She wrote-
She will be raised to know her voice matters. She is going to understand the importance behind being a leader and inspire others by her truth
Selena's biggest of all fandom on Instagram are grateful that they get to peek into their "aww-worthy" sisterly moments every once in a while.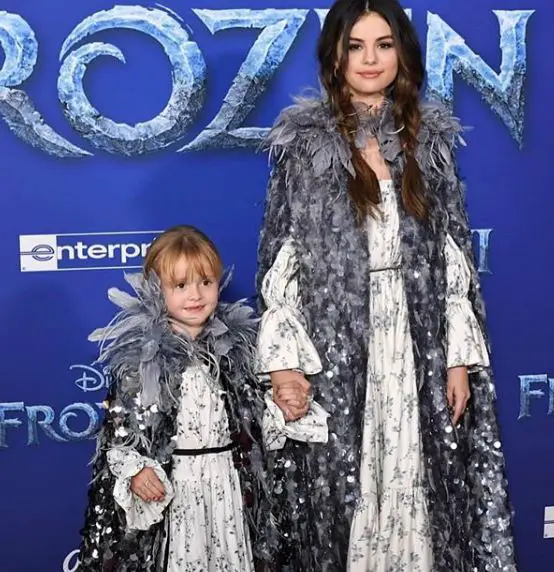 Gracie Elliot Teefey attends Disney's Frozen 2 premiere on 8 November 2019 (Photo: Selena Gomez's Instagram)
Besides the Instagram mischiefs, the sisters have many ways of enjoying themselves. 
Get Word: Madison Hu Ethnicity, Boyfriend, Dating, Nationality, Parents, Siblings
Be it preparing Christmas dinner together or going out for concerts, they have sure enough set the "sisterly-love" bar high. 
On the other hand, Gracie was spotted taking piano lessons from her sister when she was still a toddler. 
She even attended Cyndi Lauper's concert together with her sister and mother on 14 July 2019, and as a result, Selena's die-hard fans are all hopeful for the day when they get to hear the young one's talent as well.