British fashion consultant Gok Wan is known for his television show, How to Look Good Naked. However, his life was not as it looks now. During his childhood, he suffered from bullies as he was at his heaviest of 294 lb.
Even though Gok had a strong ambition to be an actor, his poor self-image led him to drop out of his education course at the Central School of Speech and Drama. Later, he made his career as he worked on himself. As of now, Gok has become one of the many known faces. 
Gok Wan Gay, Dating A Partner
Gok Wan who stands at a height 6 feet 1 inch (1.85 meters) first came out as gay to his family by introducing his then-boyfriend to them. 
During dinner, everyone stayed quiet, and his dad left the table early, which he never did, and went into the living room. His father made a bed for him and his partner with an open fire. Gok felt extraordinary with the way of his father's quiet acceptance, and after that, they never discussed it. 
When it comes to his romantic affairs, Gok has quite a history.
He was once spotted wrapping his arms around David Hughes at a party hosted by Diva magazine. His boyfriend David accepted their relationship, saying that they were together. However, Gok, being quite a private person he kept his dating status away from the media. 
Check Out: Tan France Bio: Age, Birthday, Married, Husband, Gay, Ethnicity, Net Worth
Nonetheless, around 2017, David posted a picture with his partner. Unfortunately, it was not Gok. His post proved that they had ended their relationship. 
Recently, one of Gok's friend Angela Rayner mentioned Gok and his "partner" on her Twitter. However, he has yet to reveal his partner to the world, and his relationship is still a mystery.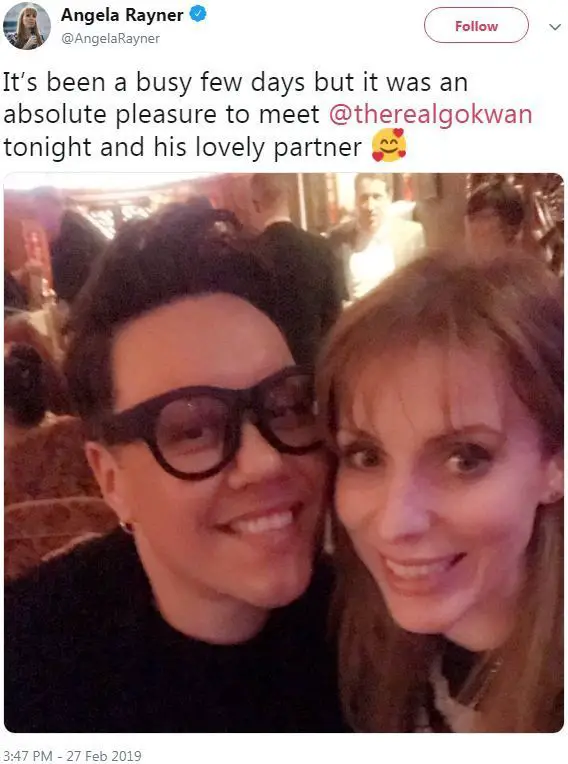 Gok Wan's friend Angela Rayner reveals about his partner on 27 February 2019 (Photo: Angela Rayner's Twitter)
There was even a time when Gok said that he had slept with 21 and a half men in his life and had also slept with women. He also mentioned that he lost his virginity to another boy whilst they were under the legal age of consent. 
His Hefty Net Worth
After facing many ups and downs in his life, Gok moved into fashion and became a consultant for celebrities at the age of 20. He also started writing for magazines like Tatler, Glamour, Times Style, Marie Claire, Cosmopolitan, The Face Afisa Mir, Clash, and People.
Then, he started to appear on TV, talking about fashion on shows including T4, GMTV, and MTV Shakedown. 
Gok got his big break on TV via Channel 4's How To Look Good Naked. Presently, he hosts Say Yes To The Dress Lancashire, which is the first Northern spin-off of the hit TV show, set in Ava Rose Hamilton in Colne, Lancashire. 
Throughout his career, the fashion consultant has garnered a net worth around £1.5 million.
Gok Wan Age, Nationality, Family
Gok Wan was born as Kowkhyn Wan on 9 September 1974. Holding British nationality, he embraces a mixed ethnicity. While talking about his family, his mother Myra is an English and father John Tung Shing Wan is a Chinese.
Exclusively: Scott Mackinlay Hahn Wiki, Age, Net Worth, Job
Gok was born in Hong Kong; he later emigrated to England at the age of six. During his childhood, he worked at his parent's restaurant in Whetstone, Leicestershire. 
However, he had a rough childhood as he was bullied for belonging to a mixed race, for being tall, overweight and gay. Even though he was being bullied, his passion for becoming an actor enrolled him at the Central School of Speech and Drama.
While studying there, Gok observed others with different backgrounds, and due to his overweight, he felt restricted, unhappy, and eventually, he dropped out of the course. 
After going through a lot, he set his mind on losing weight. At the age of 20, he began a crash diet, losing half his weight in several months. He also took up to 50 laxatives a day to prevent weight gain from the little food he consumed.
However, during his diet plan, Gok lacked energy due to which he suffered from depression and around that time, he became suicidal. Later, he returned to his family and confronted them about depression and under the supervision of his family he became back to normal.