Gia Francesca Lopez is the luckiest Starkid born to the celebrities in the town.
She was the same 2-year-old, who scattered the flower petals in one of the much-talked weddings of 2012, as her mother, Courtney Laine Mazza walked down the aisle to share wedding vows with Gia's famous father, Mario Lopez, the famous American actor, and entertainment journalist. 
Gia Francesca Lopez's Bio
With quite some media and public buzz, Gia was welcomed in the world by her celeb parents on 11 September 2010 in Burbank, California. Her father has always wanted her baby girl to grow up with a full understanding of her cultural background, which is Hispanic.
Gia, age 8, is an elder sister to her brother, Dominic Lopez (born on 9 September 2013). The brother-sister duo celebrates their birthdays back to back in the same month with only a few days apart. 
Worth Reading: Lonnie Chavis Bio Talks: Age, Net worth, Parents, Siblings & Facts
Her parents are expecting a third child for their family to be a party of five. Gia is super excited about the soon-to-be-adding member in the family. The family is eagerly awaiting the arrival of the new one. 
Facts On School & Friends
Gia goes to a Montessori school, that makes her wear a uniform, go to church, and take a religion class as a part of her formal education. More facts to her school life and friends are not yet out as she is much young to start her social media.
The catholic girl received lots of gifts and pamperings from her family and friends in her first holy communion on 12 May 2019. Her mother dolled her up, making her look like a beautiful young bride in white. 
Gia would surely make an angelic bride someday standing beside her groom, the wedding gown hovering her grown-up height.
Gia's parents have done a fantastic job raising her and her younger brother. Unlike many young people born to the prominent faces in the industry, Gia and her younger brother, Dominic, are grounded and are headed for a bright future.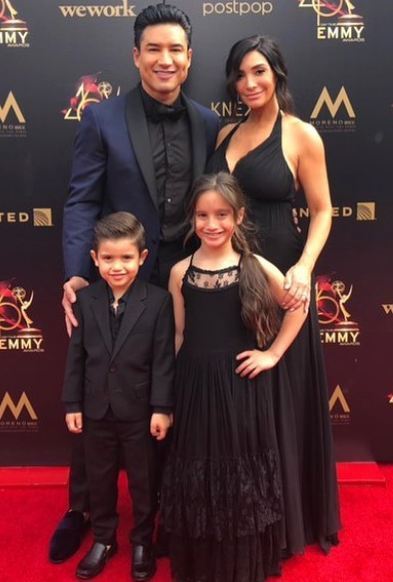 Gia Francesca Lopez attends the 46th Annual Daytime Emmy Awards with her father, Mario Lopez, mother, Courtney Laine Mazza and younger brother, Dominic Lopez on 6 May 2019 (Photo: Mario Lopez's Instagram)
The family often make appearances on several events and red carpets together. They love to flaunt their beautiful and perfect family. Even the kids of the family know how to smile for the cameras.
Gia's Net Worth
Gia has already made her debut in the entertainment world. The talent and skills required in the field, she has it within her coming from the household actors and TV presenters. She made her television debut as a part of the voice cast of Disney Channel's Elena of Avalor.
Peek Into The Life Of: Skylar Gaertner Wiki, Age, Birthday, Parents, Siblings, Height
Moreover, in September 2011, her father introduced Gia amongst his fans and followers with the book titled, Mario and Baby Gia. Mario talked about the special moments of his life- his first time being a father.
Gia leads a lavish lifestyle because of the long hauls and dedications her parents showed towards their career. She too someday will make them proud, earning a name for herself with an incredible net worth.
Like her parents, she has an anticipated career in the media and entertainment industry.