Eva Gutowski is a YouTube sensation and beauty guru known for her YouTube channel, "MyLifeAsEva." 
Her channel where she posts videos on things associated with beauty and fashion has been proved to be a big hit among teenage girls and young women. 
Since her childhood, she dreamt of becoming a screen diva, but of reaching the ladder of success, one has to work hard. Likewise, Eva also worked in a different field before making her way to the screen. 
She served in a mom and pop pizza shop as a cashier. Her hardship paid her off as she got inspired to open her own YouTube channel. 
Soon her channel gained immense popularity as well as garnering more than 10 million subscribers. 
Eva Gutowski's Bio: Age, Parents
Eva Gutowski was born to John Gutowski in Orange County on 29th July 1994. She has a sister named Maya Gutowski. She graduated from Brea Olinda High School in Brea, California and later attended California State University at Fullerton. 
Worth The Read: Gina Darling Wiki, Age, Boyfriend, Parents
Eva has an exciting heritage from African-American, Polish, Puerto-Rican to Irish.
Boyfriend Brent Rivera?
Eva and Brent Rivera have an undeniably long history!
Although they have a clear relationship as best friends now, it's not that they never gave their fickle romantic feelings a try.
There was a time when they decided to give romance a try. After the decision was made, they went on a couple of dates, including an adorable trip to Disneyland.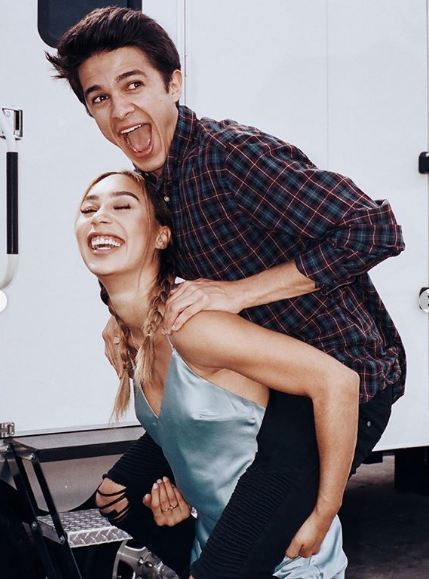 Eva Gutowski with Brent Rivera on 20 July 2019 (Photo: Eva Gutowski's Instagram)
There is a saying; best friends are better company than lovers. Same happened with Eva and Brent as they were unable to develop serious feelings towards each other but were very comfortable as best friends.
Now, they are not a couple but a very understanding companion supporting each other in every part. 
Past Relationships
Prior to Brent, Eva has been involved in a few romantic relationships. She dated popular Instagram personality Andrew Kingsbury for a year till 2015. A year later, her break up, Eva started dating another popular Instagram personality, Alex Hayes. 
Further Read: Carli Bybel Wiki: Who Is New Boyfriend? Age, Ethnicity, Net Worth
Sadly, with her this boyfriend also, her relationship did not last and called it quits in 2017. 
Other than her relationship, in 2016, Eva also revealed that she was bisexual and had been since the age of 12. 
Attributes
Eva, standing tall at the height of 5 feet 6 inches (1.68 meters), has naturally curly hair. However, she likes covering her real hair with a wig, which she feels more comfortable. Although she wears a wig, she entirely takes care of her hair and always makes sure her hair is conditioned and nourished.