Fitness freak Eddie Judge is a CEO at CUT Fitness in Rancho Santa Margarita, California. He is very passionate about his job and feels delighted to help people follow a healthy lifestyle. He gained highlight in the media industry when he appeared on The Real Housewives of Orange County on season six.
He was also a business manager at The Judge Law Firm, ALC for eleven years before he appeared on the set of The Real Housewives. Given that he is good at his job, he has undoubtedly amassed himself a decent net worth.
Eddie Judge Gay
Despite the rumors about Eddie Judge being gay, he is happily married to Tamra Judge. The couple exchanged their wedding vows in June 2013 at the St. Regis Monarch Beach Resort in Dana Point, California.
They dated for about two years before they knew they were made for each other. The reality couple appeared on the set of The Real Housewives of Orange County as an on-screen couple and shared some intimate moments.
Learn More: Is Kyle Christie Dating? Girlfriend, Family, Height, & Personal Life Details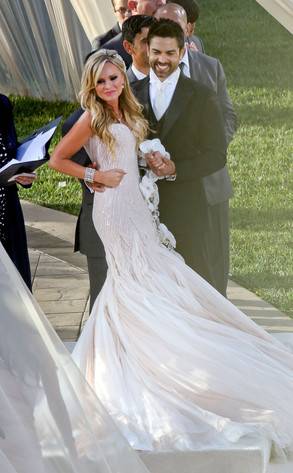 Eddie Judge marries Tamra Judge in June 2013 (Photo: Pinterest)
Even after five years of marriage, the rumors about Eddie's sexuality are still on the air. The talk began when Vicki Gunvalson, another actress of The Real Housewives of Orange County, commented that Eddie Judge had been in an "unorthodox" gay relationship in the past. The comment was not appreciated by the gay community as well as Eddie's wife, Tamra.
Since Tamra and Vicki Gunvalson always shared a tumultuous relationship despite working together for eight years, Tamra believes that Vicki wants to ruin her marriage by spreading vague rumors about Eddie's sexuality. Tamra and Vicki even got into an argument because of this issue.
Eddie Judge Age, Birthday
Eddie Judge was born in 1973 in Guadalajara, Mexico. At the age of 45, he celebrates his birthday on 31 March every year. Unlike other fitness trainers, he studied business administration and also worked as Business Manager before entering the media field.
Don't Miss: Joe Amabile Age, Bio, Wiki, Height, Net Worth, Job
The reality star didn't experience a pleasant childhood. His mother ran off and left the family when she gave birth to Eddie's younger sister, Shalimar Torres. Eddie's old diabetic grandmother raised the siblings in a low-income background. When Eddie was a teenager, he was adopted by a man in the neighborhood who raised Eddie as his foster father. That is the reason why Eddie even changed his last name to Judge.
According to Eddie's blood sister Shalimar Torres, he does not help his blood family in times of need. It seems that Eddie does not share a good bond with his family.
Eddie Judge Health, Heart Surgery
Even though Eddie looks fit and fine with his great body, he is fighting a battle for his life. He was diagnosed with atrial fibrillation, that gives him irregular and often rapid heart rate. He has undergone a total of six major operations to treat cardioversions and cardiac ablations.
His wife even asked for prayers for Eddie's health after his fourth heart surgery on Facebook.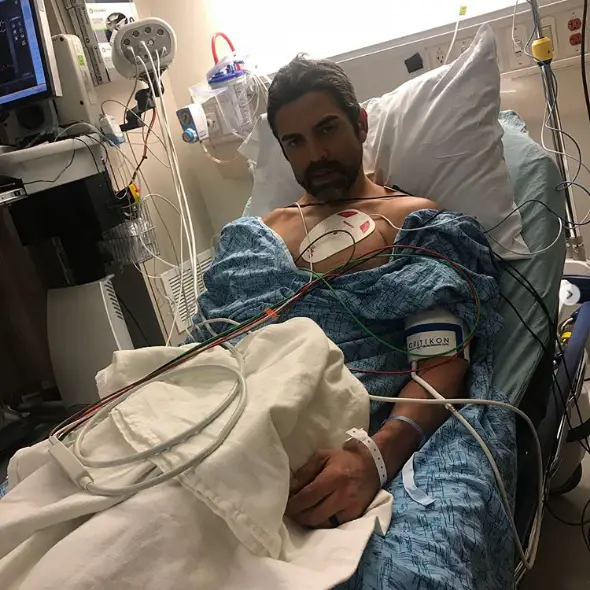 Eddie Judge's wife Tamra Judge posts a picture of Eddie after his fourth heart surgery on 17 April 2018 (Photo: Tamra Judge's Instagram)
See Also: Dual Survival's Matt Graham Married, Wife, Knife, Age, Net Worth
His wife, Tamra revealed her fears about her husband's feeble health in an interview. She is hopeful that her husband's health will soon get better. Considering the fact that Eddie knows his things about fitness and health care, there's no doubt that he will do his best to recover.