The former makeup artist, business owner, yoga instructor, and also a social worker who served in the mental health sector, Doria Ragland is related to the British royal family. 
Doria even caused quite a buzz when she spotted leaving Oprah Winfrey's house.
Doria and Oprah had lunch while doing yoga, which the media mistook as a next TV special of Oprah with the relative of the royal family. 
Doria Ragland's Husband & Children
When Doria began to work as a makeup artist, she was employed on the set of the television show General Hospital, a soap opera. 
On the set of the show, she met her former husband, Thomas Markle, who was working as a lighting director. They later got married at Paramahansa Yogananda's Self-Realization Fellowship Temple in Hollywood on 23 December 1979. 
Get To Learn About: Ajai Sanders Married, Husband, Family, Net Worth, Now
After years of marriage, Doria gave birth to her first-born child, Rachel Meghan Markle, on 4 August 1981.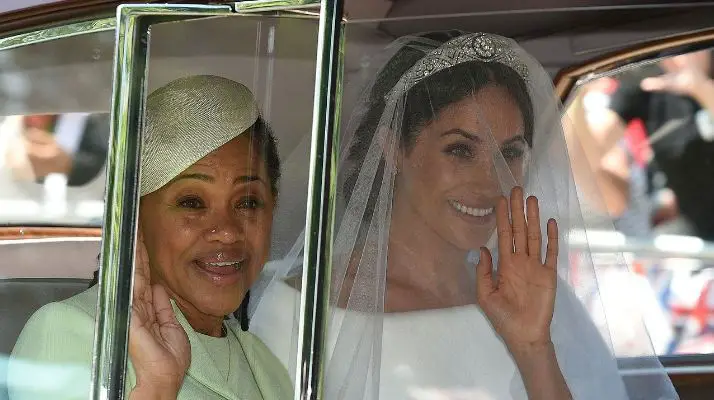 Doria Ragland on her daughter Meghan Markle's wedding day on 19 May 2018 (Photo: glamour.com)
Yes! You heard, right. 
Doria's daughter is none other than the Duchess of Sussex, Meghan Markle, a former actress with a net worth of $5 million. Other than Meghan, Doria also has step-children, Thomas Markle Jr. and Samantha Grant from her husband's previous marriage to Roslyn Markle.
When Meghan was six years old, her parents got divorced and didn't remarry since. Both contributed as parents in raising Meghan.
People might recognize Doria from the famous wedding ceremony of Meghan Markle with Prince Harry, a member of the British royal family and sixth in the line of succession to the British throne.
On 6 May 2019, Doria welcomed her first grandchild, Archie Mountbatten Windsor, seventh in the line of succession to the British throne to the world. She attended her grandson's christening in July 2019, which was held at the Private Chapel at Windsor Castle.
Being a fantastic example to her daughter, now, Doria has stepped into becoming one for her grandchild as well.
Doria Ragland Bio: Family, Parents & Siblings
Doria Ragland was born on 2 September 1956 in Cleveland, Ohio, as Doria Loyce Ragland. 
Make Time For: Gugu Mbatha-Raw Married, Husband, Boyfriend, Dating, Parents
An African-American by nationality, her mother, Jeanette Arnold, was a nurse, who passed away in 2000 at the age of 71.
And her father, Alvin Ragland, was an antique dealer who sold goods at flea markets. Her father was her mother's second husband, who passed away in 2011 at the age of 82.
When Doria was a baby, her family moved from Cleveland to Los Angeles, and around 1983, her parents got divorced. Her father married Ava Burrow, a kindergarten teacher, who was in a healthy relationship with Doria as they were of close age.
From her mother's side, Doria has two half-siblings, Joseph Jr. and Saundra Johnson. And from her father's side, she has a younger half-brother, Joffrey Ragland.
Furthermore, after graduating from Fairfax High School, Doria began her work as a makeup artist.
Then, she completed her education in Psychology with a degree in Bachelor of Arts. She received a degree in Master of Social Work from the University of Southern California in 2011.