Many people become the center of attraction after they are connected to someone famous. One of those people is Dianne Holechek. She embraced the spotlight as the wife of action-film star, Chuck Norris.
Dianne Holechek's Husband, Children
Dianne met her husband, Chuck Norris in high school. And, when Chuck Norris got enlisted in the US Air Force, he proposed her via a letter. With a yes from Dianne, they pronounced themselves as husband and wife in Torrance, California, in 1958.
Their wedding was a traditional ceremony where Chuck wore his Air Force uniform. At that time, Dianne was 17 and Chuck was only 18 years of age.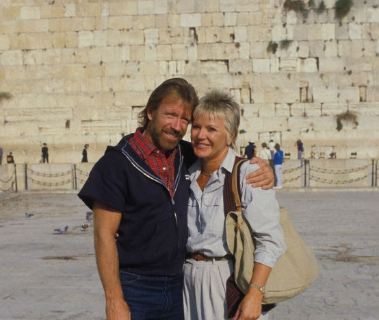 Dianne Holechek visits the Wailing Wall in Jerusalem with husband, Chuck Norris on 14 October 1985 (Photo: gettyimages.com)
Interestingly, the couple had a four-day honeymoon in Big Bear, California. And in 1962, Dianne and her husband welcomed their son, Mike. They had another son, Eric in 1964. But, the presence of their children could not stop Chuck from having a short extramarital affair with a woman named Johanna.
Another Actor: Rob Yang(Actor) Wiki, Age, Height, Girlfriend, Ethnicity, Succession
As a result, the affair affected the marriage of Dianne and Chuck; they even separated for three months in 1988. But, they soon reconciled for the sake of their sons. The two tried really hard to bring back their connection. However, their 31 years of marriage was only breaking to bits so they opted for a divorce in 1989.
It was nine years after the divorce that Chuck Norris married his second wife, Gena O'Kelley in November 1998.
Chuck Norris' Death Rumor
In 2012, rumors of Chuck Norris' death surfaced out. Messages spread on Facebook, that claimed his apparent death. But, the link turned out to be a survey scam.
However, the rumors nearly jinxed with reality after five years. In July 2017, Chuck Norris, age 78, suffered two massive heart attacks and was rushed to medical help that saved his life.
He was at the Tonopah Station Hotel and Casino in Nevada when he first collapsed while taking a shower. When the actor was being taken to the hospital, he stopped breathing. The medics were quick to jump-start his heart with a defibrillator.
After arriving at the hospital, Chuck suffered a second heart attack and was stabilized again. He was then flown to Renown Regional Medical Center on a chopper. With proper care and diet in the actor's routine, Chuck recovered in no time. He got out of the hospital in a few days after experiencing two near-death experience.
Dianne's Biography, Grandchildren
Dianne, age 77, was born in 1941 as Dianne Kay Holechek in Los Angeles, California. Her biography reveals that she celebrates her birthday every 27 November. She used to be a model and actor back in her teenage days.
Don't Miss: Joan Lunden Health, Cancer, Children, Gay, Family, Net Worth, Today
In fact, Dianne even appeared in the series, Hollywood '84. The show aired briefly with a low profile. It was an insider documentary on the whereabouts of famous actors. Many actors including Lilli Palmer, Tanya Roberts, Jack Lemmon, Lorenzo Lamas, and Chuck Norris appeared in the show.
Today, Dianne is a grandmother of seven grandchildren. Her son Mike has three children, Max, Greta, and Hannah. Her second son Eric has four kids, Camrynn, Chloe, Chantz, and Cash. Her ex-husband, Chuck Norris, on the other hand, has thirteen grandchildren.