The American basketball player, DeShawn Stevenson, who was born in 3rd April 1981, is currently 38-years of age.
The NBA Champion played 13 NBA seasons averaging 7.2 points per game in his 824 games, as per his ESPN bio.
In the process, he played four years each for the Utah Jazz and Washington Wizards, three years for the Orlando Magic, two with the Dallas Mavericks, and one year each with the then-New Jersey Nets and Atlanta Hawks.
DeShawn Stevenson's Married Details, Kids
American basketball professional, DeShawn Stevenson, has made his followers in confusion regarding his life events. 
Many people who follow DeShawn knows that he was previously in a relationship with 'BBW: LA' star, Ariane Williams. They even had exchanged engagement rings before they separated due to 'unknown' reasons.
Read More: CBS Kevin Cuenca Bio, Age, Wife, Parents
But during the time they stayed together, they welcomed two kids in their life, whose name is yet to be disclosed. However, the birth year of one child, a daughter, is 2011, as per DeShawn's Twitter post.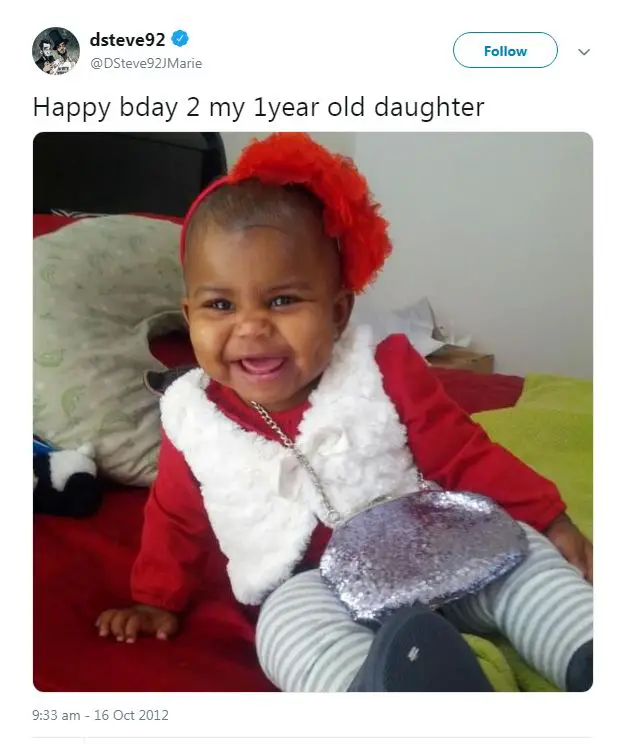 DeShawn Stevenson wishes his daughter, her first birthday on 16th October 2012. (Photo: DeShawn Stevenson's Twitter)
After separating with Ariane, DeShawn started dating a fitness guru, Jessica Marie, who also has babies from her past relationship. 
DeShawn and Jessica handled their relationship with great understanding, which helped them to decide for their engagement. Thus, they got engaged in 2014 after being together for four years. 
Like a gentleman, DeShawn who stands at the height of 6 feet 5 inches (1.96 meters) wore his future-wife 7-carat rock ring, which looked great on her hands, in front of friends and family. 
As of now, there is not much talk regarding DeShawn and Jessica's relationship; however, they must be maintaining a happy private relationship. Moreover, the pair must be planning to get married soon and continue their love until life-long.
Arrested With Rape Case
Before he rose to fame, DeShawn Stevenson was charged with a rape case after DeShawn and his high school teammate, DeShawn Anderson, had sex with 14 and 15 years old girls, in June 2001.
Later, when one of the girl's mother found out about the incident, they were arrested by local police and investigated the case. 
DeShawn Stevenson also admitted having consensual sex with the 14-year-old girl, after getting drunk. The statement was confirmed by the minor-girl, as well, which helped DeShawn get out of jail on bail. 
Net Worth & Career Details
DeShawn paved his career towards basketball from a young age as he started playing professional basketball from his university days.
He was signed by NBA team Utah Jazz in 2000, immediately after he finished his college studies. He continuously played for four years with the Utah Jazz, the youngest player in the history of the franchise to play and start for the team, before he was traded to Orlando Magic. 
Another NBA Player: Rex Chapman Wife, Children, Family, Net Worth
DeShawn left his mark in every team he played for over his career. He also has become an inspiration for youngsters because of his on-field passion and stats. 
In the process, DeShawn has managed to earn a whopping total net worth of $10 million through his salary and other associated brand endorsements, as of 2018.
Family Details 
DeShawn Stevenson chased the dream that his father, Darryl C. Stevenson, saw when he was young; to become a professional basketball player.
Darryl, who had all the potential to become a champion player, could not reach his dreams due to his mental illness. His mental illness led him to kill his own mother, which forced him life imprisonment in jail. 
Therefore, DeShawn's mother, Genice Popps, raised DeShawn as a single parent when he was growing up. However, Genice did not settle to live without a company; thus, she married Terry Popps, who looked after DeShawn and Genice.