David Dobrik is a YouTube star who makes regular vlogs and comedy videos, which make people subscribe to his channel.
Adding to that, he enjoys a massive 14 million-plus subscribers on his self-titled channel David Dobrik.
Besides that, he also has a second YouTube channel named David Dobrik Too that has over 6 million subscribers as of November 2019. 
Furthermore, David is a rising actor and television personality in the making, as he hosts Nickelodeon's America's Most Musical Family as well as starred in few movies like An Interrogation, FML and Airplane Mode.
His Bio (Age), Parents
David, who goes by the birth name David Anthony Dobrik stands at the height of 5 feet 9 inches (1.75 meters). 
He was born on 23rd July 1996 in Kosice, Slovakia. However, he moved to Chicago with his family early in his childhood and grew up there.
Read About: Katie Cook Married, Children, Family
He has three siblings, Ester, Sarah, and Toby, in his family, which also includes his father, mother, and himself.
He often makes his parents and his siblings appear in his videos, although he has not revealed much information about them.
On 23rd August 2018, David surprised his dad with his dream car, that being a BMW M2, which also shows how much he loves his family. 
His Vlog Squad
David Dobrik, along with his celebrity friends, formed a group in 2015 that would come together for a vlog collaboration, and without a doubt, the group is called Vlog Squad. 
The other members of the Vlog Squad include celebs like, Liza Koshy, Josh Peck, Natalie Noel, Jason Nash, Zane Hijazi, Heath Hussar, Corrina Kopf, Scotty Sire, Toddy Smith, Matt King, Matt King, Erin Gilfoy, and Kristen McAtee.
Who Is David Dobrik's Wife?
In May 2019, David Dobrik got married to his Lorraine Nash, the mother of David's friend, Jason Nash. However, the whole wedding scene was to prank Jason after he joked to David that he'd never get married.
Hence, to prove him wrong and prank him, David proposes Jason's mother and gets married. Also, he starts calling Jason his son after the marriage. 
However, the prank ended after a month of David-Lorraine's marriage in June when David filed for divorce from Lorraine. 
David's Current Relationship Status
On recent news, David Dobrik is rumored of dating his assistant Natalie Noel, but no official source has confirmed their relationship. 
The news about them dating one another bloomed overnight when Natalie moved from Chicago to David's LA home to become his full-time, live-in assistant.
Also, he bought her a new car for her birthday, which has made people speculate about him dating her.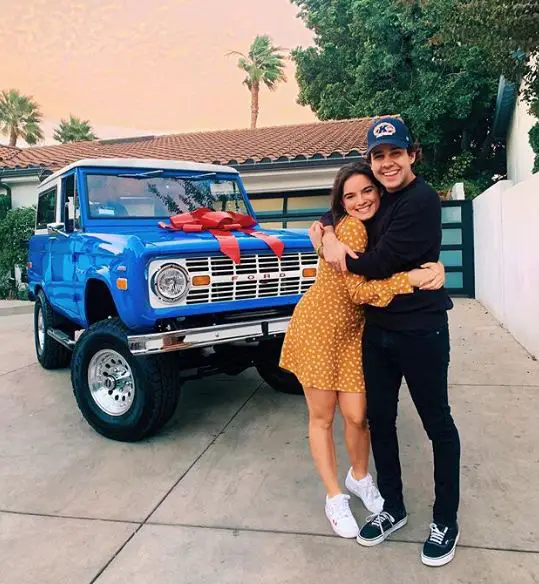 David Dobrik gifts a new car to Natalie Noel on 27 November 2019 (Photo: David Dobrik's Instagram)
However, any rumors/news cannot be trusted until and unless any of the two discloses about the matter. 
David's Ex-Girlfriend 
Back in the past, David was in a relationship with fellow YouTuber Liza Koshy; the relationship went down in 2018, nearly after them dating for three years.
Interesting: Ella Rodriguez Wiki, Age, Boyfriend, Daughter
The two announced their seperation news through a YouTube video, where they revealed that they had been apart for the last six months.
Additionally, they shared that the reason for their seperation was their busy life, which kept them apart. 
Now, although the two have been separated as boyfriend and girlfriend, they still cherish their friendship.