The renowned chef Damaris Phillips has her own unique style of celebrating her wedding anniversary with Darrick Wood. Celebrating her anniversary on July 15, Phillips recently took to Instagram to share their special tradition of sharing vows each year.  
Damaris Phillips and Darrick Wood, Keeping the Love Alive
In her recent Instagram post, Philip shares the tradition that she and Darrick Wood have been following each year on the occasion of their marriage anniversary since they got married in 2015. 
The chef posted a candid monochromatic picture of their wedding day, where they are seen bursting with laughter. The joyous picture is followed by a handful of their selfies, one for each of their anniversary celebration. This year marks the fifth year of their marriage, and their love for each other doesn't seem to have faded to the slightest. 
Moreover, Phillips paired the post with a lengthy caption explaining their sweet tradition. She wrote, 
Darrick and I exchange vows every year as a way to celebrate our marriage. It's a tradition we learned from the couple responsible for us meeting... I think it gets sweeter every year. Also, I get a new dress, so that's fun!
The caption also included her share of the heart-melting vow she wrote for her husband. As she wrote, she promises to be the best partner and the best friend she can be for Darrick, and she promises to become the supporter of his dreams. Furthermore, she wrote about love, forgiveness, and finding balance in their relationship in her vow. 
Her sweetest vow ended with,
I promise to work to see you as you change and to fall in love with the different person you become. I promise to help you be ready to leave this life when it is time. If I am able, you will not face this alone. You are the wo/man that I love. I am ready. Today I take you as the co-captain of the team we are building.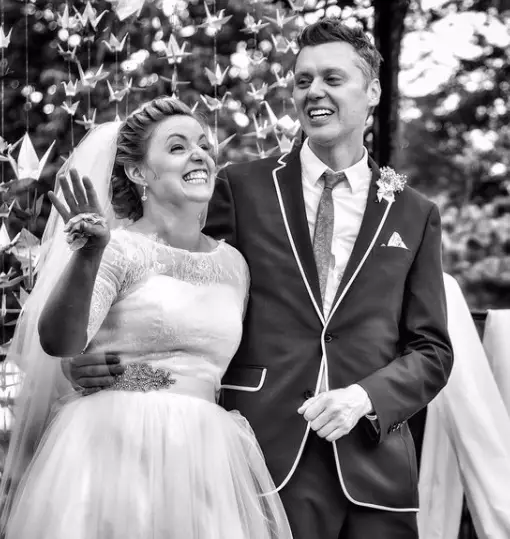 Damaris Phillips and Darrick Wood. (Source: Instagram)
How Did They Meet? Do They Have Kids?
Phillips met Darrick, known for the series Southern at Heart and Guy's Grocery Games, at a wedding and was introduced by a common friend. The couple shortly fell for each other and began dating. 
According to the wedding details elaborated in the Food Network Magazine, the couple had organized a massive celebration for the big day. With a total of two hundred thirty-five people, the event was held outdoor with excellent decor and food. 
It wasn't until they got engaged that Phillips began thinking about her wedding. Both Phillips and Darrick shared the idea of how they wanted their special day to be like. Darrick came up with a plan to do an outdoor ceremony with a family-style single dining table and vintage china. 
Going as per the plan, the couple tied the knot in June 2015 amongst their friends and family. However, the duo does not have any kids, but according to her tweet in 2018, Phillips might be considering adopting a child in the future. 
Currently, the couple resides in their Kentucky home with their pet cats. Phillips loves her cat and often shares about her pets on social media. In 2018, her 'gram post said that her cat, Florence, was pregnant, and the couple is raising the baby kittens.  
Moreover, the happily wedded couple does not have a child yet. But Phillips' tweet of 2018 suggests that she might be looking for adopting a child. Replying to one of her followers on Twitter, Phillips curiously asked for advice on adoption. 
Is there any advice you might give us from the child's point of view? We've talked with a lot of adoptive parents but not as many adults that were adopted. — damaris phillips (@ChefDPhillips) March 18, 2018
What Is Her Net Worth?
Phillips came into the limelight after marking her spot in the final three in a Food Network contest Food Network Star in 2013. Since then, she has regularly appeared in several food shows and runs her own shows on television. 
Unlike other renowned chefs, she does not own a restaurant but has become a significant tv personality known for the shows such as Souther at Heart, The Bobby and Damaris Show, and Southern and Hungry.
Working on her culinary skills from a young age, she is now amongst the profound chefs in the business. Although her net worth is unknown, she has certainly amassed a hefty sum from her successful career.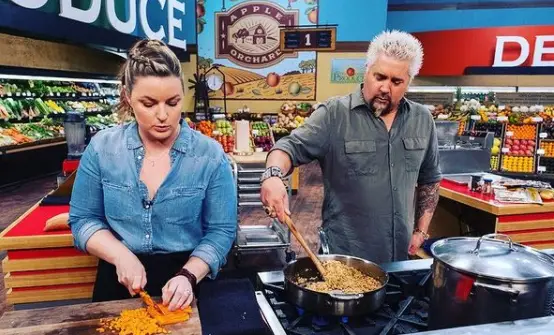 Damaris Phillips and Chef Beau MacMillan. (Source: Instagram)