African-born American lifestyle guru Colin Cowie is a producer best known for his work in Jail Caesar, Race to the Altar, and Everyday Elegance with Colin Cowie.
Due to his bright personality and stylish sensibility, he has made into the glamorous world of over-the-top planning parties for the royalty, celebrity, and business. 
Colin has extended his career into the fast-track mode and has inspired the people with his undeniable triumph.
For the past 25 years, he has always been at the forefront of event and wedding planning. 
Colin Cowie Bio, Net Worth
Colin Cowie was born on 3rd January 1962 in Kitwe, Federation of Rhodesia and Nyasaland (now Zambia) with the nickname, Coco. However, details about his parents and family background are in the shadows as of now. 
As per Colin's education, he received his education in South Africa. To pursue his career, he moved to the United States from Africa in 1985. 
Also Read: Melissa Heholt Wiki, Age, Married
By 1992, he founded his career and made his own brand, Colin Cowie. He also got featured on the Today Show, The Oprah Winfrey Show, and The Ellen DeGeneres Show. 
Colin took his career at a higher level and began hosting the daily wedding planning show, Get Married, on Lifetime TV. On the show, he shared his knowledge with the bride-to-be about fashion, decoration, and other wedding related topics. 
By 2019, Colin has been quoted in many periodicals such as The New York Times, People, Architectural Digest, InStyle, Town & Country, US Weekly, Reader's Digest, USA Today, TV Guide, and the Chicago Daily Herald. 
Today, Colin has made a net worth of $4 million from his career. However, in 2019, he might also add another big chunk to his net worth as his condo at 12 E. 12th St. is going to hit the market for $12.49 million. 
Colin Married To Gay Partner?
Meeting a soulmate and choosing to get married is one of the greatest feelings in the world.
Promising someone as wife or husband till death keeps apart is an extraordinary emotion. Almost every person in this world dreams of having a grand wedding with their partner. 
Likewise, Colin, who has made a name of himself in the event planning world, might be busy planning for his own wedding.
Look For: David Tutera Married, Wife, Divorce, Partner, Daughter, Net Worth
He is ready to get married to his gay boyfriend, Danny Peuscovich, and his marriage is going to be beyond amazing.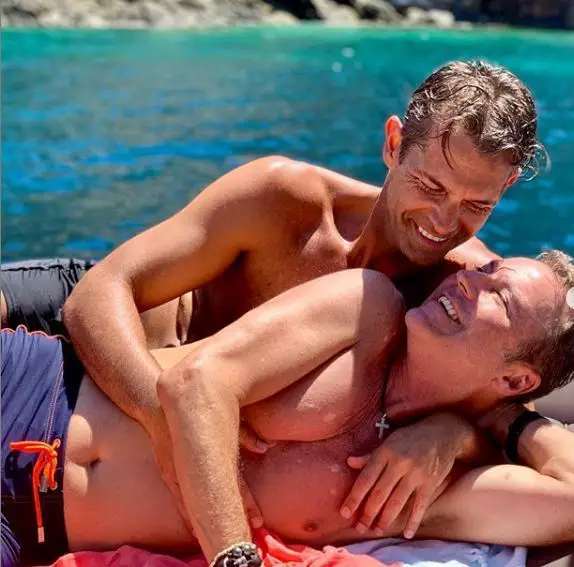 Colin Cowie enjoys his vacation at VERANDA ANTIPAROS with his fiance Danny Peuscovich on 17 August 2019 (Photo: Colin Cowie's Instagram)
Before anything, Colin and Danny are best friends for six years, but it took them forever to turn their friendship into a romantic one.
However, the strong waiting game gave them a tasteful fruit at the end. 
Colin, being a romantic guy, popped the proposal to Danny during their stay at Kubili House in South Africa. As of now, their fans and followers are eagerly waiting for their grand wedding.