Colby Donaldson is an American custom auto designer and builder. He gained the spotlight as a contestant of the Survivor series' franchise. He appeared in three seasons of Survivor series titled Survivor: The Australian Outback, Survivor: All-Stars, and Survivor: Heroes vs. Villains (from 2001 to 2010)—he was the runner-up of the second season.
Likewise, he also made a Survivor series' record by winning nine individual challenges (reward and immunity) in Survivor: The Australian Outback.
Besides, he is also a former owner of a welding business and a former sales representative of HMO carriers.
Bio (Age) Plus Height
Colby Donaldson was born in Christoval, Texas, on 1 April 1974. His birth sign is Aries. He has a mother named Gay Donaldson, an older brother, Reid Donaldson, and a cousin brother, Thomas, in the family.
Another Survivor Series' Contestant: Survivor's Jerri Manthey Married Status | What Is She Doing Now?
He studied at Texas Tech University and graduated with a degree in Business Marketing.
Colby Donaldson's Wife & Marital Life
Colby Donaldson is married to Britt Bailey, an owner of a beauty shop named Britt's Beauty Counter. They shared the wedding vows on 24 September 2016. Since then, the married couple has always been together.
As of now, they reside in Dallas, Texas.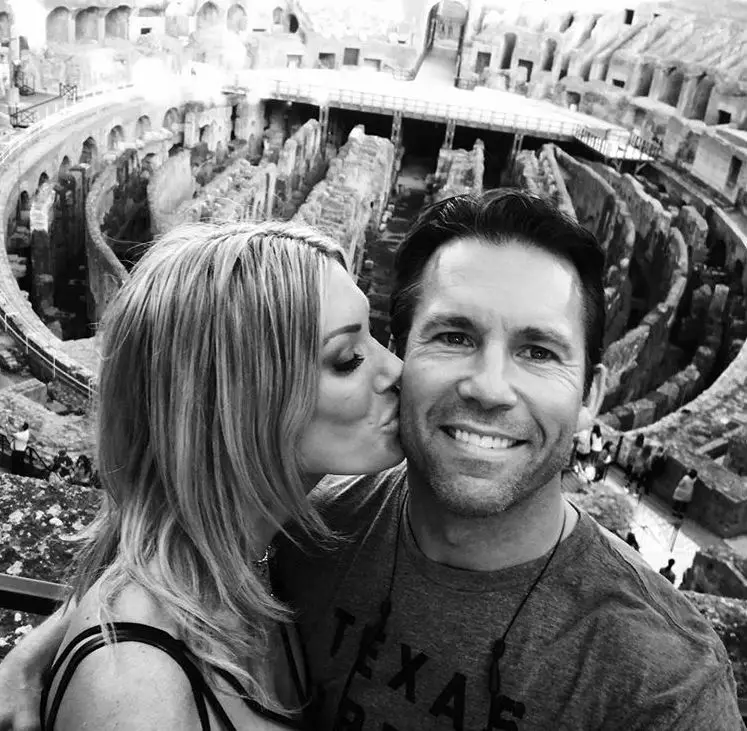 Colby Donaldson with his wife, Britt Bailey on 1 November 2019 (Photo: Colby Donaldson's Instagram)
Before marrying Colby, his wife Britt was married to John Nelson. She even has a daughter named Brinley with John. However, John and Britt got divorced. Despite their split, they still share a friendly relationship.
Career: Movies & TV Shows
Colby Donaldson started his career in the film industry after he got a role in the 2001's TV series entitled Access Hollywood. Later, in 2001, he received some small roles in TV series such as The Rosie O'Donnell Show, Rock & Roll Jeopardy!, Politically Incorrect, Hollywood Squares, and Jeopardy!
Afterward, he started getting more significant roles in his television career—some of his TV series credits are Just Shoot Me! (2002), Good Girls Don't... (2004), Joey (2004-05), Pepper Dennis (2006), and Top Shot (2010-2013). Likewise, he has made his guest appearances in the TV series Rachael Ray (from 2007 to 2010).
A Survivor Series' Winner: Survivor Winner Jenna Morasca Age, Dating Status, Net Worth, Height
Other than his credits in TV series, Colby has also performed in a couple of movies, which include Dirty Love (2005) and Red Eye (2005).
Net Worth
According to Celebrity Net Worth, the American television and film actor, Colby Donaldson has a net worth of $1.4 million.
Interesting Facts About Colby Donaldson
Colby stands at a towering height of 6 feet 1 inch (1.85 meters).

His wife, Britt, celebrates her birthday on 1 November every year.

He and his wife celebrated their third wedding anniversary on 24 September 2019.

His wife, Britt, raises awareness for Degenerative Myelopathy.

As a custom auto designer and builder, Colby loves to design and build furniture in his free time.

He likes to watch football and to go on water skiing and mountain biking.

He goes by the nickname of and Colbster and The Colbster Actor.