Cleen Rock One is a professional tattoo artist who rose to fame after he competed in the reality TV series, Ink Master in 2014, 2016, 2017 and 2018. Although Cleen didn't win the first three seasons and became a runner up, he finally mastered the fourth time and ended up winning the fourth season.
For the win, Cleen, who had worked on a 35-hour tattoo of a massive cobra-and-skull concoction on his subject's body ended up bagging a total $100,000 prize.
Cleen is the owner of the three tattoo shops, Chrome Gypsy, Golden Skull and Nevada Tattoo, that helps him to garner a substantial amount of net worth throughout his extensive career.
If the name Cleen doesn't ring any bell, find out more about his wiki on his career with Ink Master, biographical facts on age, his net worth and tattoos, and his family with ex-wife and kids.
Cleen Rock One Wiki, Ink Master
Cleen Rock was born as James Steinke on 6 August 1977. He was raised by his parents in Elgin, Illinois, United States of America. Now of age 41, Cleen embraces white ethnicity.
Cleen was interested in tattooing from an early age. At just 16, he got his first tattoo, which was inspired by the elephant chain on the left arm of Red Hot Chili Peppers bassist Flea.
Although Cleen's mother declined his idea of getting a tattoo at first, he remembered telling her how if she didn't take him to a professional, he would just get it done in somebody's garage or kitchen.
Don't Miss: Brian Puspos Bio, Net Worth, Wife, Girlfriend
Seeing the dedication of Cleen, his mother wasn't able to reject it and went onto let him get his first tattoo. According to state law, the customer needs to be atleast 21 to get a tattoo without parental consent.
Since Cleen was just 16, his mother who had decided not to go with him wrote down a permission slip and gave him a copy of her ID. 
Cleen who went to a shop for his second tattoo years after getting his first one, that was when he decided that professional tattooing was what he wanted to do for the rest of his life.
Four years after that, Cleen opened his own tattoo shop in 1999. His skills in tattooing got better day by day, and in no time, he was one of the most requested tattoo artists.
Cleen's decision of taking part in Ink Masters was a huge step, and although he failed many times, his dedication towards his profession gave him the best result as Cleen ended up out-inking Christian Buckingham and winning during the finals of the 2018 season of Ink Master.
This hard-working hunk entered the 11th season of Ink Master as the coach, alongside Christain Buckingham. He held the show by fire even as his role of the coach.
Cleen Rock One's Kids With Ex-Wife
Cleen Rock was previously married to his first wife. He and his ex-wife whose name is unknown divorced due to personal reasons.
However, they both share two kids together. Although their marriage ended into divorce, Cleen has a great relationship with his children and ex-wife. 
After his split with his wife, Cleen found the perfect lady who would complement him in every way possible.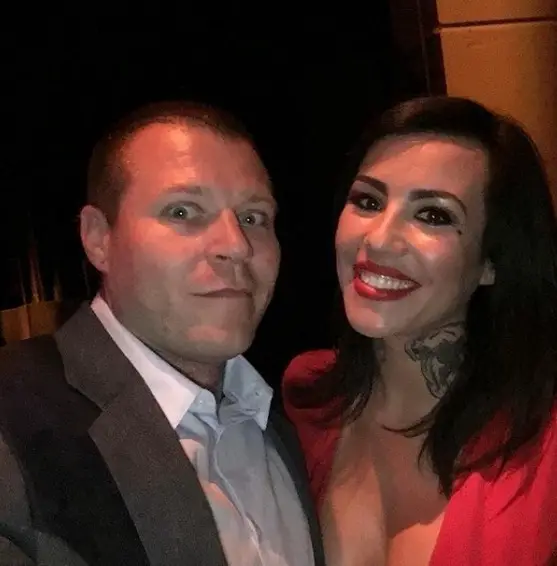 Cleen Rock One wishes his girlfriend a happy women's day on 9 March 2019 (Photo: Cleen Rock One's Instagram)
See Also: Trevor Einhorn Married, Wife, Parents
Cleen often flaunted his partner on social media and also spoke about his love for her. Cleen's girlfriend also shared a lovely bond with his children and the family enjoyed frequent vacations.
There is no reason Cleen would wait longer to get into the marital bond with his beautiful lady. Thus, with no details of their wedding, Cleen revealed that he got married to his girlfriend, sometime around early March 2019.
It's apparent in their pictures, the limitlessness of the love of this amazing couple. No doubt, Cleen, and his wife will make it to a long run with their pleasant love story.