Cipha Sounds is an American DJ, comedian, radio and television personality who has earned good fame through his work.
The famous entertainer was born on 19th April 1976 in The Bronx, New York as Luis Diaz. 
He started his musical career with a tour with Bad Boy Records' artists including Lil Kim.
As his work garnered good recognition, he found his ways as the voice of New York City Hip Hop on Hot 97 radio network. 
Cipha's career-run was faster than he thought as he went on to make hits-after-hits and also discovered new talents. 
Family Insights
Although the famous DJ, Cipha Sounds, is a native of New York, he is believed to be a half Jamaican. Cipha prefers to keep his family details on the dark side. 
However, Cipha, who is an honest man, has not kept his love for his father hidden, as he occasionally remembers his father.
Interesting: Greta Wall Detailed Bio: Age, Married Life With Husband, Kids, Family And More
Actually, he often mentions his father on his social media and expresses his sadness over not seeing his father much in his childhood.
In clear words, Cipha's father passed away when he was a child, and that did not let Cipha experience his father's love while growing up.
Moreover, no further details regarding Cipha's family are disclosed in public; Cipha must have done it to maintain a peaceful family environment. 
Cipha Sounds Married To Wife / Girlfriend?
When most of the 40's men are settled with wife and children, and focus on living happy, healthy and undergoing weight loss, there is Cipha Sounds whose personal life detail is all covered in darkness.
Like his family info, Cipha, age 43, has not disclosed anything about his personal life as well, which doesn't help his fans' desire to know whether he is married or still single.
Furthermore, Cipha attended his friend's wedding last March all alone, and that hints that he does not have a wife or girlfriend.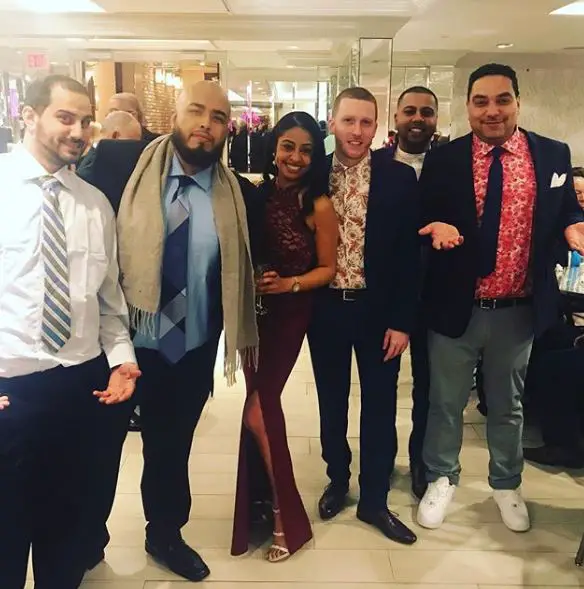 Cipha Sounds poses with his friends at one of his friend's wedding on 9 March 2019 (Photo: Cipha Sounds' Instagram) 
Nevertheless, the real relationship status of the handsome man, with decent height, can only get clear when he, himself, decides to reveal his personal life.
Till then, the wait must go on for his followers. 
His Net Worth, Now
After Cipha Sounds started contributing as the voice of Hot 97 radio station, he became the fan's favorite which brought him more opportunities.
He also opened his arms, grabbing all the opportunities, to showcase his versatility and talent over different fields.
Know About: Rebecca Bisping Wiki, Age, Wedding, Husband, Family, Children
Thus, he worked as a DJ on Chappelle's Show from 2003 to 2006 and later served as a VJ for MTV as well.
However, Cipha left Hot 97 in 2015 after working there from an intern to an on-air personality for 17 years.
He posted about his separation with the Hot 97 team due to internal problems with the management of the radio station. 
Nevertheless, Cipha is still prominent and active on other platforms, which earns him a decent net worth. He currently owns an estimated net worth of $2 million, from his professional career.
As of now, Cipha is preparing for the new season of the comedy TV show, Laff Mobb's Laff Tracks. The show has been hosted by Cipha since its the first season in 2018.