Born with silver spoon and fame, Christopher Schwarzenegger is the youngest son of the world-renowned actor, Arnold Schwarzenegger and author, journalist Maria Shriver. Now of age 21, Chris stays very lowkey about his life, unlike his famous siblings
In case the name is not familiar to you, here are some interesting wikis on Christopher's relationship with parents and siblings, and dating status with a girlfriend amidst gay rumors surrounding him.
Christopher Schwarzenegger Wiki, Siblings
Christopher Schwarzenegger aka Chris was born on 27 September 1997 in Los Angeles, California. Holding American nationality, Chris was born to famous stars and parents Arnold Schwarzenegger and Maria Shriver.
Christopher stands at a height of 5 feet 11 inches and is overweight as per his wiki. He has been criticized for his weight and has been compared to his brother Patrick to get a healthy body. Christopher is currently trying to work out and eat healthy to get fit. 
Don't Miss: Mayim Bialik Husband, Divorce, Children
He has three siblings including Katherine Schwarzenegger, Patrick Schwarzenegger, and Christina Schwarzenegger and one half-sibling named Joseph Baena from his father's extramarital affair.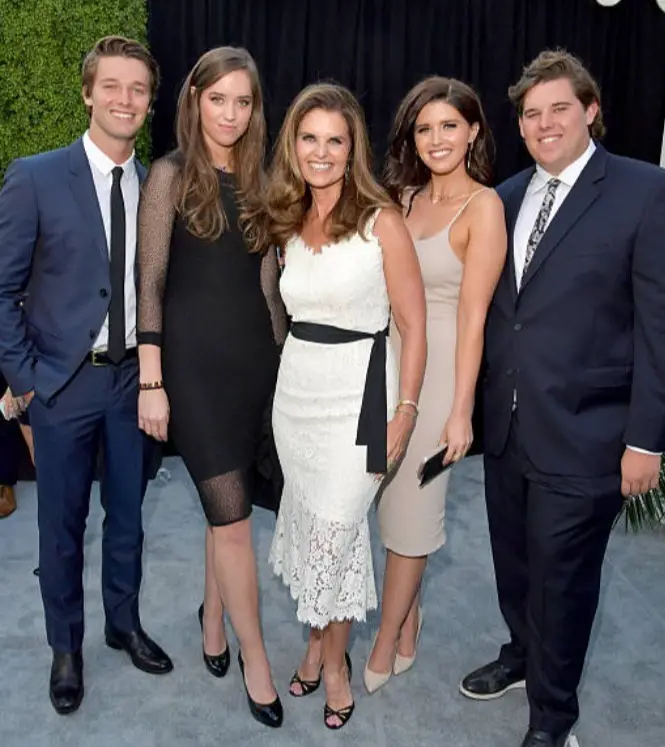 Christopher Schwarzenegger attends The Comedy Central Roast of Rob Lowe with Patrick Schwarzenegger, Christina Schwarzenegger, Maria Shriver, and Katherine Schwarzenegger on 27 August 2016 in Los Angeles, California (Photo: gettyimages) 
As of now, Christopher who graduated from Brentwood School, East Campus in 2016 is attending the University of Michigan for his Bachelor studies. His sister Katherine is an author who recently got engaged to a famous actor, Chris Pratt.
Christopher's older sister Christina is also an author, whereas his brother Patrick is an actor; Patrick made a breakthrough in the Hollywood industry with his hit movie, Midnight Sun.
Christopher Schwarzenegger Dating A Girlfriend?
Christopher is a private person, unlike his brother and sisters. Christopher likes to keep his personal life to himself and barely makes an appearance in public. It is not known if he is dating anybody in private.
After going off to college, Christopher might have found someone. But it is still not known on who he might be seeing. Many have speculated that Christopher is probably gay, but it is not evident as Christopher hasn't said anything about being a part of the LGBT community.
His Parents: Arnold Schwarzenegger & Maria Shriver
Christopher's parents filed for a divorce when he was 11 after his mother, Maria found out about her husband's illegitimate child and past affair.
See Also: Josh Wiggins Wiki, Age, Parents, Dating
Arnold who had a past affair with his housemaid, Mildred Patricia also found out that Joseph was his son when he turned seven as he had started giving off the same facial features as Arnold. After coming out clean about his affair with Mildred, Maria filed for divorce immediately on 13 February 2008. 
The couple split around $400 million and agreed on joint custody of their children. However, this couple is still legally married even after about seven years. There is no confirmation of divorce might also lead them to get in the Guinness World Record for the most extended amount of time for divorce finalization. 
Arnold and Maria live separately but still get together at times of festive seasons, family gatherings or events. Their children make equal time for each of their parent and are in a good relationship with them.