Christen Dominique is an American social media star who is best known for her vlogs that tackle a wide variety of makeup, beauty, and fashion on her YouTube channel. She has endorsed brands like; L'Oreal, Sephora, Urban Decay, Estee Lauder, and Olay.
She is also the Forbes Top beauty influencer of 2017 and popular on other social media platforms such as Twitter, with 400K followers, more than 650K followers on Facebook, and 1.5 million followers on Instagram. 
Bio: Age
Christen Dominique stands a height of 5 feet 4 inches (1.62 meters) weighing 56 Kgs (123.45Ibs). 
She was born in Texas, the United States, on 5 February 1987. She has two half-sisters. She embraces a mixed ethnicity of Guyanese-Portuguese, Mexican, and Arabian. 
Married To Husband, How They First Met?
Christen Dominique is married to her long-time boyfriend, Cesar Irias. They tied the knot in 2012 and are blessed with a son named Jaden.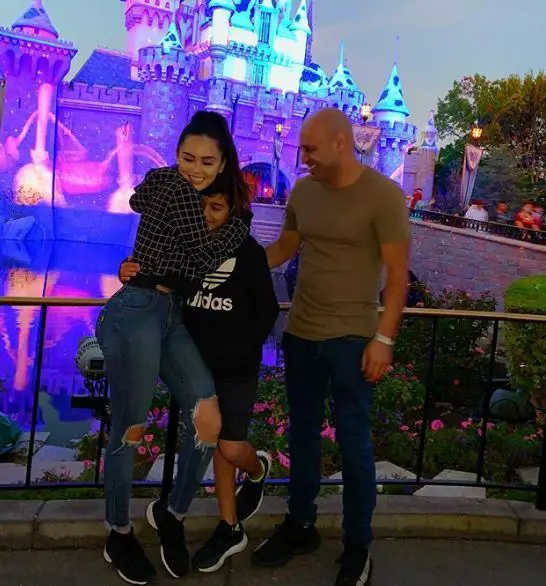 Christen Dominique with her husband and son on 13 May 2019 (Photo: Christen Dominique's Instagram)
As for their love story, the couple first met at the club through their mutual friends in 2006. During that time, her husband was struggling a lot. He was mending his broken heart from his previous failed relationship, and at the same time, he was also kicked out of the house. So, he was sharing a house with one of his friends. Unfortunately, after confessing his love for Christen, he was jobless for 6- 7 months as he was kicked out of the bank he was working for. He was fired because he hacked the server of the bank. As a result, his relationship with Christen was also hampered. So, they stopped talking for a while, but when everything was normal, the couple reunited again. So, the couple officially moved in together in 2008.
YouTube Career
Christen was interested in make-up from her early days, although she wasn't allowed to wear makeup. Her undereye circle was major insecurity for her when she was in the seventh grade. And, one day she went to school with makeup on her face, and she found herself confident and beautiful. On that day, she found it as if her friends were nice to her. And that's when her love for makeup began to flourish. Eventually, she started doing makeup for her classmates in the girl's locker room, who was taken back by the young Christen's makeup skills. 
Read About Another American Makeup Artist: Joyce Bonelli Age, Boyfriend, Married Status, Baby, Net Worth
Christen first began her career as a YouTuber on 3 February 2009 with her YouTube channel Christen Dominique and posted makeup videos for fun while she worked for an insurance rep. But she was a mother who had to look after her newborn; she had to quit her freelance makeup job. When she informed her friends and clients about quitting the job as a freelance makeup artist, she was suggested to make a makeup tutorial for them so that they could practice. That's when she started her career as a makeup artist. She gave more attention to her videos, and in September of 2009, her career as a beauty expert kicked off with a video titled "How to create fuller lips''.
Later, she collaborated with other YouTube artists, including Chrisspy, Sylvia Gani, Patrick Starr, Chloe Morello, Sarahi, Jake Warden, and Laura Lee, and also launched her own Dominique cosmetics. The first product she had introduced was an eyeshadow palette.