A Nigerian by nationality, Chief Obi is an Internet comedian who gained fame through his skits as a stereotypical African father on Vine, Instagram, and YouTube. The comedian reached a great height of success in social media, which led him to become the first ambassador for Vomoz Communications.
Before expanding to Vine and Instagram, Chief gained a following on the video platform of Keek.
He not only has a self-titled YouTube channel for his sketches, but also has ChiefObiVlogs channel for vlogging, behind-the-scenes, and music.
Even Rapper Olamide was featured in Chief's 2017 single, Carry Go.
Other than his comedy sketches and music, Chief also worked as an actor for Night to Laugh in 2015 and Rukky in 2018.
Furthermore, on 22 March 2017, Chief took a big step towards success as he signs a million dollar deal with Vomoz Communication.
This deal must have increased his salary by a significant amount, and he also earns an average salary of $30K as a comedian. So, Chief's net worth must be estimated to massive amounts.
Chief Obi Wiki, Age & Real Name
Born in 1994 in Port Harcourt, Nigeria, Chief Obi celebrates his birthday on 12 November every year. His real name is Henry Obiefule as given to him during birth by his parents.
Have A Quick Look: Quincy Fouse Family Insight & Bio; Background, Siblings
Chief hasn't revealed many details about his personal life, but he does share pictures of him with his family members sometimes.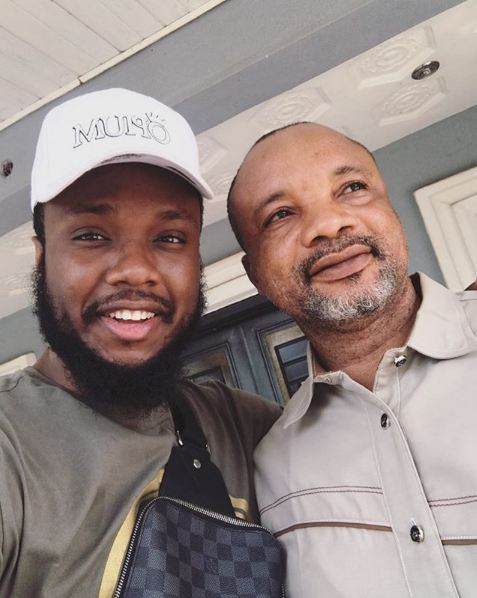 Chief Obi with his father on 2 February 2019 (Photo: Chief Obi's Instagram)
At the age of 24, Chief graduated from college on 2 August 2018 that made his parents proud just like any other parents would be. 
Chief Obi Dating Girlfriend?
Chief likes to joke around now and then through his online posts. He has plenty of posts related to girlfriend and dating.
On 21 September 2013, Chief tweeted, saying that he was afraid to have a girlfriend because he might spoil her too much. And a little over a month, on 19 November 2013, he confirmed that he was not dating.
Nevertheless, he kept tweeting hilarious posts on his Twitter. On 25 August 2014, Chief took his followers by surprise when he announced his engagement. At first, it seemed like a real deal that left everyone in wonder about who the bride might be.
But when the followers took a few seconds and reread the tweet, they realized it was a false alarm as he invited all of them to the party on a date that didn't even exist in the calendar.
Sneak Into The Life Of: Marcel Spears Bio, Age, Wife, Affair, Family
Many of his fans and followers continued asking him about his girlfriend. So without seemingly fooling around, Chief replied with a tweet on 24 July 2015 that he remembered when he met his girlfriend. He even provided a link to Instagram, but the account was deleted.
So, as of 2019, it is not known if Chief is dating anyone. His posts and tweets often confuse the followers as they are unable to figure out if it's another one of his jokes, or there is a hidden meaning behind it.