The conservative internet personality Chad Prather is recently in media headlines for his attempt to run for Texas governor in 2022. He says the horrors of the COVID pandemic affecting thousands of families in Texas urged him to run for the next governor with the hope of helping his community.
Chad Prather Runs For 2022 Texas Governor
The conservative comedian declared his move to run for Texas Governor on April 3 on his social media with a lengthy message explaining his attempt. He says he wants to be a common-sense voice for Texans and stay out of ridiculous gimmick adhered to the political circus.
Speeding up his election process, Prather has launched a new website dedicated to his election stats and updates. He has already begun the election campaign, which started at Washington County with series of events scheduled ahead.   
Despite not having a political background, he believes in winning the race with his values and integrity. And having seen closely the struggles of average families in Texas, such as loss of jobs, loss of business, loss of life due to the COVID pandemic, Prather felt the necessity of helping the community flourish with his leadership and representation. 
The YouTuber, who is estimated to have a net worth of 60 thousand dollars from his YouTube channel, has already set out his effort to make a change in Texas. It remains for us to see if he will get the opportunity to conduct his visions for Texas.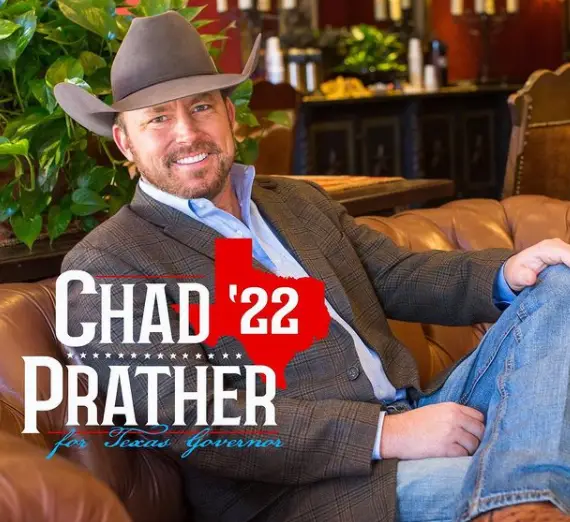 Chad Prather. (Source: Instagram)
How Did Prather Become An Internet Personality?
Unafraid to speak up his mind, the 'modern day Will Rogers' has amassed thousands of fans on his social media platforms. Prather broadly received exposure from his expressive, opinionated videos on the YouTube channel that started out about six years ago.
The American comedian who went viral for the video "Unapologetically Southern" in 2015 is greatly praised for his own way of articulating ideas and has appeared in media outlets such as Fox and Friends, CNN, and MSN. 
Besides, It's My Backyard host dropped an album, Y'all Shut Up, last August, receiving amazing reviews for brilliantly integrating humor into his songs. 
Who Is Chad Prather Married To?
The singer is happily married to Jadrien Prather, a nursing practitioner at Cook Children's Pediatrics. She often appears on his YouTube videos and made full-length appearances in some of the episodes discussing ideas circulating politics, personal life, fame, and social media hate. 
Prather is a father to five children, four from his first marriage and a step-child from Jadrien's previous marriage. The comedian hilariously joked about having five kids in one of his stand-up comedy gigs. But, he is secretive about what caused him to divorce his first wife.