Catherine Giudici is a reality television personality who rose to fame as she won the 17th renewal of the American dating and relationship reality television series, The Bachelor, that premiered on the 7th of January 2013. 
She was a graphic designer with a degree in advertising from Washington State University when she even got engaged to her now-hubby, Sean Lowe, on the show.
Sean, like Catherine, starred on the ABC's show. More so, he was also placed third on the show's counterpart, The Bachelorette.
Bachelor's Catherine Giudici Welcomed Baby No.3!
The wait is over, Catherine's family is finally a number five!
Catherine gave birth to her third child, a "daddy's girl" that her husband always wanted on the 23rd of December 2019.
"Mama, Mia" captioned Catherine revealing the young one's name.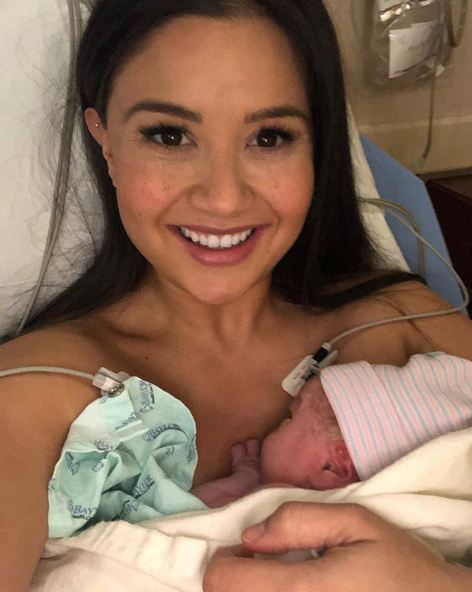 Catherine Giudici welcomes baby no. 3, Mia with her husband, Sean Lowe, on 23 December 2019 (Photo: Catherine Giudici's Instagram)
Previously, the pair had decided on keeping the baby's sex a secret, throughout the pregnancy.
However, the elated momma did not mind flaunting her bump out in the public.
"First two have been pretty cool, so why not a third?"- she had written referring to the baby no. 3 that she and her husband were expecting on the 23rd of December 2019.
It was back in June when the couple announced the news for the very first time.
Discover: Bachelor's Cassie Randolph Age, Boyfriend, Parents
It was then, during an exclusive interview with the US when Sean admitted that Catherine's pregnancy had happened sooner than it was planned.
He sure realized at the time that raising three kids, including the boys, Samuel Thomas (born on 2nd July 2016) and Isaiah Hendrix (born on 19th May 2018)- all under three and a half years old was a "little daunting."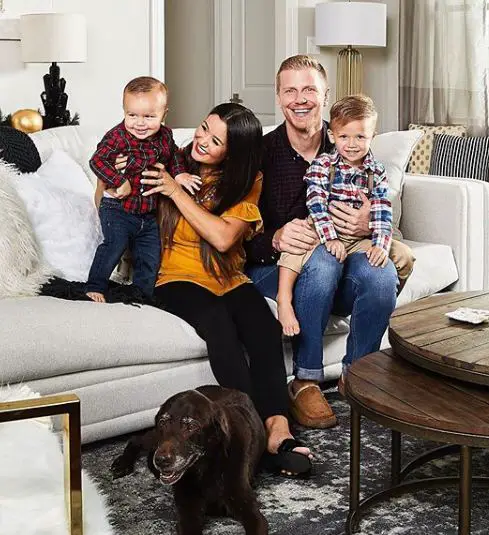 Catherine Giudici, her husband Sean Lowe and their sons, Samuel Thomas, and Isaiah Hendrix on 13 November 2019 (Photo: Catherine Giudici's Instagram)
But, on the brighter side, the couple who always hoped to add on to the family eventually signed for it.
Wedding Details
Catherine and Sean tied the knot on the 26th of January 2014 over a television wedding aired live on ABC.
Their vows were officiated by none other than the ABC love hunt's host, Chris Harrison.
The entire ceremony at the Four Seasons Resort- The Biltmore Santa Barbara, was indeed magical: accessorized with flowers, ivory adobe, a beautiful "blushing" bride and the blue-eyed hunk as a groom- all of it was an "epic fairytale on display" for the world to witness.
Job / Husband's Net worth
Catherine, a vegan blogger, reportedly works as an author and Insurance broker. From what it appears, all net worth details stay under wraps.
Meanwhile, her partner, Sean's finances are much openly and publicly kept.
As per the Celebrity Net Worth, Sean is worth $500K.
Also, Look Into: Peyton Lambton Bio, Age, Married, Husband, Partner, Baby, Instagram
However, he told Fortune, in the year 2016, that he saved his earnings from the popular reality shows, including Dancing With The Stars, all the while investing "wisely" in a $10 million real estate project in Texas.
Age / Birthday, Race
Catherine was born on the 29th of April 1986 in Seattle, Washington.
As per Catherine's father, a social media coach, his family roots back to Switzerland and Scotland.
Meanwhile, her mother, Cynthia Mejia-Giudici, is a trustee for the Filipino-American National Historical Society.
Her estranged parents are believed to have been divorced since 2002.