In this 21st century, YouTube has become the biggest online video sharing platform where people can showcase their talent and make cool bucks from it. Showcasing their skills, many YouTube personalities have garners the notoriety, and Casey Holmes is no exception to it.
Casey Holmes is the lady who is behind the success of the channel "itsbl0ndie." Her passion is makeup and hair, and in her word, she is overly obsessed with cosmetics and experimenting with different beauty products.
Casey Holmes' Bio
Casey Holmes was born on 25 November 1991, in Georgia, USA. 
Married Life
Casey is married to Davis Marlar. With her husband, she welcomed her baby boy Mason in July 2019.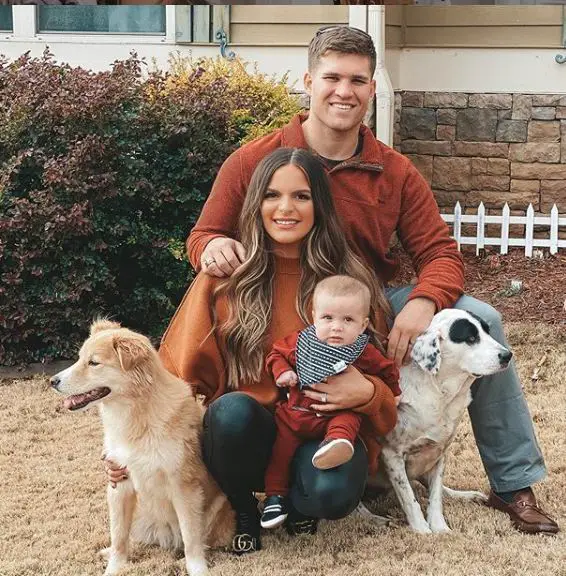 Casey Holmes with her husband Davis Marlar and son Mason on 29th November 2019 (Photo: Casey Holmes' Instagram)
Casey's husband, Davis, who was born on 1 August 1993 in Georgia, is a military man who graduated from the Army baseball team at West Point. In his family, he has a younger brother.
Engagement & Wedding Details
Casey first met her husband in a bar in her hometown, where a common friend invited her. During the first meeting, Davis believed that Casey and their common friend were in a relationship due to which he did not show much interest at first. However, the misunderstanding was cleared soon after Casey and Davis started hanging out and when Casey clarified that she did not have a boyfriend.
Also Read: Joyce Bonelli Age, Boyfriend, Married Status, Baby, Net Worth
Gradually, while knowing each other, the duo realized that they had gone to the same school. Soon, they became friends on Facebook and exchanged messages. Soon their messages turned into a deep conversation and became closer, leading their closeness into the dating relationship
While Casey and Davis got into a relationship, due to Davis being a military man, the couple was not able to spend a lot of time together, and people often used to question how they keep the relationship going. And Casey said, 'it's because of small things' like FaceTiming. 
Another YouTuber: Samantha Chapman Husband, Boyfriend, Children, Net Worth
After dating for a long time, Davis proposed to Casey in Atlanta, Georgia, in March 2017. Shortly after being engaged, they got hitched in the same year in October. 
Interesting Facts
Initially, Casey had been a bit shy while she created her YouTube channel, but, further down the road, she gained confidence and started opening up.
In July 2015, she was signed by Kin Community, a lifestyle network for female content creators.
She has also collaborated with other famous beauty gurus such as Laura Lee.
Other than YouTubers, she also collaborated with the beauty brand, Smashbox, and released two custom highlighter palettes.
Casey's husband has also been featured on her channel.