Bunny Meyer is one of YouTube's most popular vloggers. Primarily a paranormal vlogger creating videos on her personal experiences and trips to graveyards, she eventually transitioned her site to fashion and beauty hub with some good comic added to her content.
Her video contents mostly revolve around make-up tutorials, 'Outfit of the day,' and 'Follow Me Around' themes.
Registered under the name grav3yardgirl, she started the channel back in 2010, and now builds a subscriber of 8.45 million.
Bunny Meyer's Age / Birthday, Real Name
Bunny Meyer was born on the 3rd of August 1985 in Houston, Texas, as 'Rachel Marie Meyer.'
More Of Beauty Vloggers: Sylvia Gani Age 23, Dating Status With Boyfriend; Birthday, Ethnicity, Net Worth
Later, she legally changed her first name 'Rachel' to Bunny.
Married / Dating Boyfriend?
Bunny has been dating a YouTube star, who goes by the name of "Dog-Man." Their relationship trackback to the day when they were still in junior high school.
On 9th April 2019, she shared a throwback picture of their junior high school prom, which also happened to be Bunny's first date. Further, on the post, she captioned---Twenty-five and plus years of old memories.
Bunny and Dog Man live-in together in Pearland, Texas.
Dog Man has been featured in many of Bunny's YouTube videos.  Also, he went on to create his own, self-titled, channel highlighting his Arma 3 Role-play series.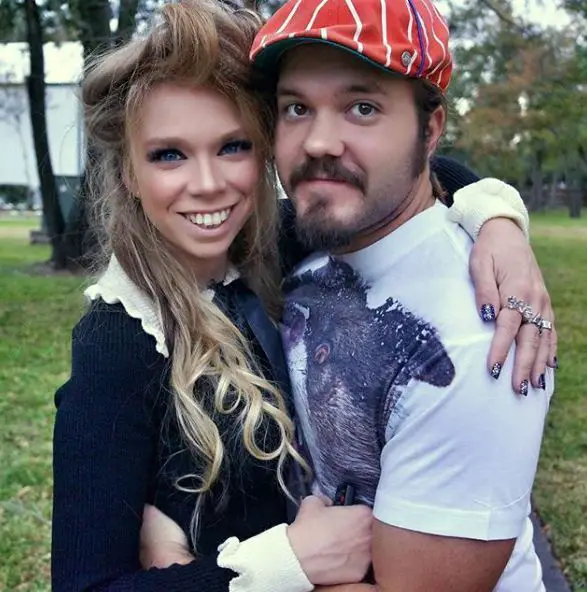 Bunny Meyer and her boyfriend, Dog Man on 19 August 2019 (Photo: Bunny Meyer's Instagram)
Together, the couple celebrated their eight years on YouTube on 3rd December 2018.
About Lying Her Audiences
Bunny, who is loved for her over-the-top personality and humble way of living, came open about how she has been lying about her wealth in order to appear more relatable and in alliance with anyone who did not fit in.
Get To Know, Likewise Social Media Personality: Emma Chamberlain Age & Parents Details; Plus Height, Net Worth, Family, Boyfriend
She received millions of views on her "As Seen on TV" product videos over the years. But, eventually, around 2017, she experienced a drop in subscriber engagement and accepted that her "gimmicky" persona was no longer working.
Therefore, on 10th May 2018, Bunny confessed over a video titled "Why I've Been Lying About My Life" that she has been giving the "watered-down" version of herself. In the process, she exposed her pretty standard way of living for the millionaire content creator----showing off her latest purchase of a $4.9k worth Dior bag.
Interesting Facts on Bunny Meyer
Before her career as a Youtuber, she was a fashion designer. She met with an unfortunate car accident that left her unable to sew.

She encountered controversies reviewing famous brands like Lime Crime, Sephora, Urban Outfitters, and Forever 21.

She loves tattoos, creepy old dolls, and making funny faces.

She has a tattoo on her left wrist that says 'Real Horrorshow' in cursive.

On her viral web series 'Does This Really Work?', Bunny tries parody for reviewing beauty products, including nail art and stick-in eyelashes.