As Ayanda Thabethe learned to embrace herself, her life changed completely. When she explored herself, she got to know her skills and shortfalls and accordingly chose a career where she could flourish. 
At the age of 33, Ayanda is a renowned South African TV host, entrepreneur, supermodel as well as a celebrated face in many local and international leading brands. As a spokesperson for the global brands, L'Oreal Mizani Collection, and Ponds, she gets to explore her love for doing different hairstyles. 
And furthermore, as the red carpet correspondent for E!, she loves representing South Africa. She plays an incredible role in breaking the stereotyped portrayal of Africa presented in the international platform. 
Ayanda Thabethe's Bio, Age
Ayanda's date of birth is on 18 March 1986. She holds South African nationality. Details regarding her parents' descents and the ethnicity she embraces are not yet revealed. 
Ayanda grew up alongside her four siblings, whose identity and whereabouts remain unknown for now. 
The five sisters were brought up in a household of single-mother who worked three jobs, never allowing her hardships to come in the way of her daughters' accomplishments in life. 
You May Like: Jill Nicolini Married, Husband, Divorce, Baby, Boyfriend, Net Worth, Twitter
Ayanda grew up in a family where the unconditional love and support they had for each other always triumphed the financial and other sorts of challenges they faced. 
Talking about her educational attainments, she received a degree in BCOM Communication Management from the University of Pretoria in 2007 and later an Honours Marketing degree from the University of South Africa. 
Ayanda's Boyfriend, Husband
Amid a third anniversary, Ayanda and her then-boyfriend Zulu Mkhathini (Dash) parted ways, never citing the real reason behind the break-up.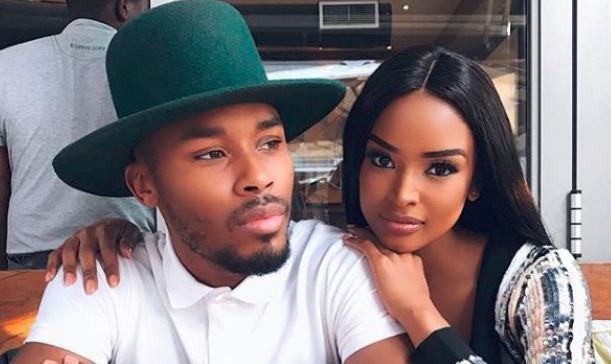 Ayanda Thabethe and her then-boyfriend Zulu Mkhathini (Dash) (Photo: timeslive.co.za)
However, Ayanda claimed that both of them split on a friendly note and Dash, the former Vuzu Entertainment presenter, still meant the world to her.
Before Dash, she was married to TV presenter Andile Ncube. The then-considered "dream marriage" lasted only for two years. The contentious divorce rose many speculations, most of them being unkind.
Nonetheless, her ex-husband confronted the rumors of him cheating on Ayanda. Their marriage wasn't that horrible according to him.
Today, Ayanda is happy and in love with her ever-growing career. Instead of focusing on a husband, or a boyfriend, she enjoys exploring herself when she is single.
Career & Salary
Ayanda has more than her stunning looks going for her. The exemplary beauty-with-brain deployed her academic achievements as a base for her entertainment career.
Right from her University days, she was part-timing auditions and odd jobs. In the process, she signed a contract with the Sunsilk as a package model.
Ayanda struggled a great deal before she received a stamp of approval by a model agency. She knocked many doors and often got "too short to be a model" response.
Look For: Toccara Jones Married, Husband, Boyfriend, Weight Loss, Net Worth
However, her talents and dedications even overpowered her "short height." Today, she is blessed with a massive fan-following who look up to her and take her fitness and beauty advice. She has enticed millions of people by her curvy figure. The fitness-fanatic has successfully maintained ideal body weight. 
Besides being a prominent stellar-career, Ayanda is a shrewd entrepreneur running her marketing agency, Buzzworthy Productions since 2011. The star of many talents best-known for her style, radiant confidence, and charming personality moves in between her multiple career choice very smoothly. 
In the process, Ayanda earns a gorgeous salary landing into her millions-worth assets, which is yet to be revealed.