Art is usually considered as nature's gift, but if you don't work on it, you achieve nothing, even if it is a result of nurture. 
Some people recognize their natural talents at a very young age which helps them achieve the greatest heights very early. Autumn De Forest is one of the best examples of nature given skills. 
Autumn de Forest is already a big name when it comes to the world of painting. The artistic community actually refers to her as a child prodigy. 
Her Career / Net Worth, Painting
Her father first discovered the young Autumn's talent at the age of five. When he was staining woods in the garage, he asked the 5-year-old little Autumn for help.
After he set her up with a brush and a piece of plywood, he was surprised to see what the little girl had made after a while. She'd created something like a Rothko, which the De Forests hung up in their kitchen later. 
The journey has only been of the upwards and progression for Autumn after that. Her parents' full support and motivation in pursuing a career in painting, has always kept her moving forward in the journey. 
See Also: Aubrey Anderson-Emmons Massive Net Worth At Young Age; Parents, Height & More
As a result of this support and motivation, Autumn had already sold $7 million of paintings at the age of 14.
Thus, coming to this date, Autumn must have garnered an outstanding amount of net worth of her own. 
The year 2018 was an exceptional year for Autumn. She got one of the most significant painting projects of her life in August 2018. She painted a painting of Teen Vogue titled, Purple Lining that was about spreading positivity.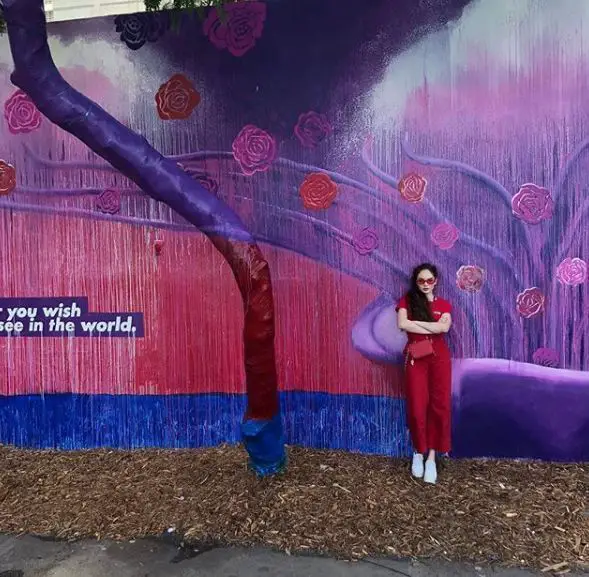 Autumn de Forest poses with her painting titled "Purple Lining" unveiled on 24 August 2018 (Photo: Autumn de Forest's Instagram)
Similarly, in December 2018, Autumn was invited to the Stoneman Douglas High School in Parkland, Florida, as a guest. She thanked the school community for making her a part of the school creative field where she could meet and create with the young leaders. 
Autumn de Forest Age, Parents
Born to Douglas de Forest and Katherine Oslen de Forest in Los Angeles, California, Autumn de Forest celebrates her birthday on 27 October every year. The 2001 born artist belongs to American nationality at the age of 17. 
Check Out: Trevor Moran Facts: Gay, Dating, Height, Now
Both of Autumn's parents embrace artistic professions. Her father is a composer while her mother has worked as a model and an actress previously.
As a sign of good parenting and progressive artistic parents, Autumn's parents always encouraged her into her painting career.