Arryn Zech has established her name as one of the prominent faces in the entertainment industry. She voiced the role of Blake Belladonna on RWBY. She also voiced the character, Dr. Emily Grey, in the longest running web-based series, Red vs. Blue, created by the Austin-based production company, Rooster Teeth. 
Arryn began her career in the entertainment field after she played the character of the scared customer in TV mini-series, The Men Who Stare at Ghosts. After some years, she got a chance to show her talent through her voice as well. Arryn voiced on the video game RWBY: Volume 1. 
Shortly after that, Arryn landed in the movie, Lazer Team, where she portrayed the Ruby Lakes' Cheerleader. After she started receiving people's recognition, she also got recognized by directors who gave her the chance to make her appearance in numerous TV shows and movies. 
As of now, she is working on her upcoming project, The Flying Carsons: Part 1 - Hunter. With a height of 5 feet 7 inches (1.70 meters), the tall beauty might have garnered a good fortune throughout her successful career.
Is Arryn Married Or Still Dating Boyfriend?
Arryn is not married to a husband. She might also not be dating any boyfriend at the moment. 
However, previously, Arryn dated Miles Antony Luna, director, and filmmaker, known for writing and directing Red vs. Blue and RWBY. But sadly, Arryn announced her amicable split with Miles when Arryn decided to leave for Los Angeles. 
Eventually, Arryn started dating the teen heartthrob, Bob Morley. Even though Arryn and Bob were in a committed relationship, the couple weren't seen together a lot in public.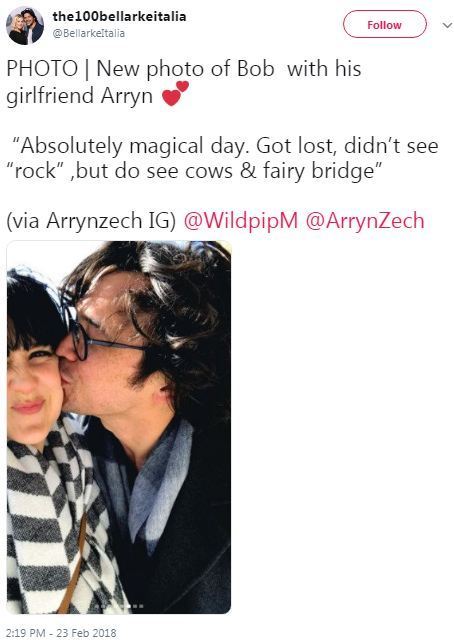 The 100 Bellarkeitalia tweets about a new romance between Arryn Zech and her boyfriend Bob Morley on 23 February 2018 (Photo: the100bellarkeitalia's Twitter)
Arryn was relishing her secretive relationship with her boyfriend. However, the relationship came to a sudden halt.
After Arryn's broken relationship, she has not flaunted her new partner. But, it seems like Bob has already found his better half. As of now, Bob is happily married to his girlfriend, Eliza Taylor. 
Arryn Zech's Wiki / Bio, Age
Arryn Zech was born on 4 October 1990 in Rota, Spain. But later, her family relocated in the city of New Braunfels, Texas where she grew up.
While talking about her family, Arryn has a matching tattoo of a combination of Orchid, Belladonna plant, Texas Mountain Lauren, and Lavender, with her father, Charlie Zech. 
On her social media account, Arryn often flaunts her family pictures. She never misses the opportunity to remember her parents, making regular posts on special occasions. 
Moving towards Arryn's education, she attended the North East School of Arts high-school in San Antonio, Texas, from where she majored in musical theatre. 
Later, for further education, Arryn enrolled at The University of Texas at Austin. She graduated from the university with a bachelors degree in Journalism in Copy Editing and Design. After her graduation, Arryn discovered her passion for acting and singing.