April Bloomfield is one of the few female chefs in the United States to hold a Michelin star. The British cooking celebrity is best recognized for holding the prestigious Michelin star for two of her restaurants, namely, The Spotted Pig and The Breslin.
Having garnered an incredulous working experience from all around the globe including Kensington Place and Bibendum, River Café in London, Roscoff and Belfast in Irelan, and Chez Panisse and Berkeley in California, April is one of the prominent figures to watch out for in the industry.
Her success was getting as bigger as it could get with every single day passing until she got tangled in misfortune and had to let go of her Milvhein star. 
Her partnership with Ken Friedman saw to its final day in December 2017.
You may Find It Interesting: Koren Grieveson Married, Husband, Boyfriend, Dating and Net Worth
April decided to split their bicoastal restaurant empire following the multiple, detailed allegations of sexual misconduct against Ken. The allegations were amongst the most shocking #MeToo moments in the restaurant world.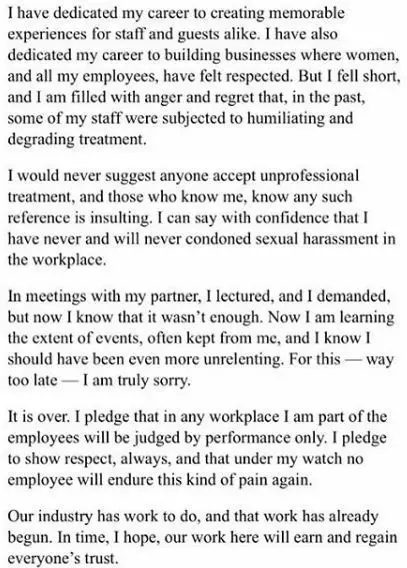 April Bloomfield's public apologies in regards to her business partner, Ken Friedman's alleged sexual misconducts on 14 December 2017 (Photo: April Bloomfield's Instagram)
Subsequently, April had to make a public apology for she was not able to discourage her partner's misconduct.
April Bloomfield's Bio, Family
April, age 45, seems to have been named after her birth month by her parents. April was born in Birmingham, Westlands. Her father (some other sources claim him as stepfather) was an engineer while her mother, worked from home, painting china bonbonnieres for the West Midlands enamel firm, named Halcyon Days.
April happened to grow in a foodie household. Their family's special cheese sandwich and her mother's steak is all she remembers about her childhood.
Initially, she wanted to get into the police force, solely inspired by a television series that featured strong-headed female cops.
However, as she missed out on the police cadet scheme, she went on to a catering college alongside her sister and soon realized her true calling.
Her Net Worth
April credits her time in London with the legends like Rose Gray and Ruth Rogers at the River Café, which taught her how to cook. As for now, the award-winning chef is looking for her ways to bounce back into her fame before the past unfortunate events.
Interesting Read: Brooke Williamson Wiki, Husband, Kids, Parents, Top Chef, Restaurants
Moreover, without any prior notice, April announced on Instagram that her LA-based restaurant, The Hearth and Hound would serve its last supper on a particular day in January 2019.
She is yet to elaborate on the tumultuous of the sudden announcement, but the speculations are that it has something to do with "Ken-incident."
And now, everyone is curious about what would come of her multi-million dollar space. Her net worth as of now remains under the wrap, but the owner of multiple ventures in the hospitality industry must have made multiple digits to her net worth so far.
Married To Gay Partner?
April has always been open about being gay. She is one of the few in the industry who made it clear in regards to her sexuality.
However, with her claim, there began the speculations on her dating life.
For now, it is safe to state that she is not married and also, does not have a wife. She is yet to make any announcements about her current status.