Aparna Nancherla is an American comedian who has been following the footsteps of a few famous South Asian comedians like Aziz Ansari and Mindy Kaling.
Instead of finding her origin an obstacle in the mostly white, male-dominated line of work, instead, she made sure that her very out-of-the-box role do wonder for her.
The comedian and actor is one perfect example to justify that talent never can be bounded within geography.
Bio(Age), Family Background
Aparna, age 37, was not yet born when her parents, made a big move from Hyderabad, India to the U.S. during the 1970s. And, several years later, she was brought into the world in Washington, D.C. as a second child to her father, Ananth Nancherla and mother, Suchitra Nancherla. Her South-Asian ethnicity, thus, like her folks root back to India, while she holds American nationality.
Keep Reading: Jackie Fabulous Bio, Net Worth, Parents, Married
Aparna bounded by her up-tight schedules and demanding job, which requires a lot of traveling, no longer live in her parents' house. Thousands of miles away across the country, and they still expect her to text them, whenever she has to be away from her place. They would want to know about her safe and sound arrival.
Impressively, both her parents were doctors and hence wanted that Aparna too would pursue a career in medicine.
However, fate had something else planned out for her. Aparna always longed creative writing, but she never pursued stand up until her college days. It was not what she dreamt about as she grew up, though. It was some casual whim she did the stand-up for the first time, never realizing how far it could go.
Officially, for the first time, she appeared on the television screen during the year of 2012 on FXX's Totally Biased.
Married To Husband?
Aparna sure has tweeted and Instagrammed a great many context-related to dating life and relationships. However, she never went vocal on the matter.
More to it, on 16 October 2018, she shared a picture on her as she half-cropped some guy next to her and captioned it- "Me with my one & only at Boney Island!!!".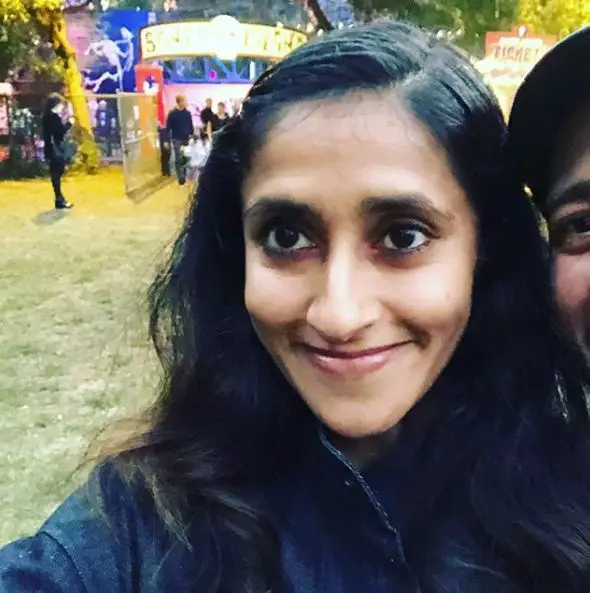 Aparna Nancherla with her possible boyfriend on 16 October 2018 (Photo: Aparna Nancherla)
It definitely suggests that Aparna is off the market. But, then the identity of the lucky guy stays a complete anonymous business.
Discover: Shazia Mirza Married, Husband, Partner, Wiki, Parents, Tours
And, yet again, there has been a great many times she humored about "my boyfriend" topics in her stage performances. Even so, all of it requires some authentic confirmations.
Captivated by her sense of humor and hilarious contents, but not completely satisfied just knowing her professional affairs, her fans, and followers also want to know personal matters. They are eagerly waiting for the day when she walks down the aisle and gets married to her husband.