Anna Renee Duggar is an American reality TV personality famous as the wife of Josh Duggar on the reality show, 19 Kids and Counting. 
Anna Renee Duggar's Wiki, Siblings
Anna Renee Duggar was born on 23rd June 1988 in south Florida as the fifth child born to her Michael Keller and Suzette Keller.
She was raised alongside her seven siblings: Esther Schrader, Rebekah Hunt, Daniel Keller, Priscilla Waller, Susanna Keller, Nathan Keller, and David Keller, in Gainesville, northern Florida. 
Anna grew up in her baptist family with strict rules where she, along with other siblings, had weekly 15-minute meetings with their parents.
She was homeschooled along with other siblings and completed her high school at the age of 16. 
You May Like: Who Is Tamala Edwards' Husband? Wedding, Divorce, Net Worth
Later, she was enrolled at an online Christian college program where she received a degree in early childhood education. 
At the age of 19, she attended a Journey to the Heart, a strict, intensive conservative Christian camp with her sister, which she takes as a life-changing event. 
Married Details, Children
Anna Renee Duggar is happily married to Josh Duggar. The couple is blessed with six children as of 2019. 
On 20th June 2019, the couple announced that they were waiting for a new baby girl to welcome in their family.
Finally, on 27th November 2019, on the eve of Thanksgiving Day 2019, they welcomed their sixth kid, Maryella Hope Duggar.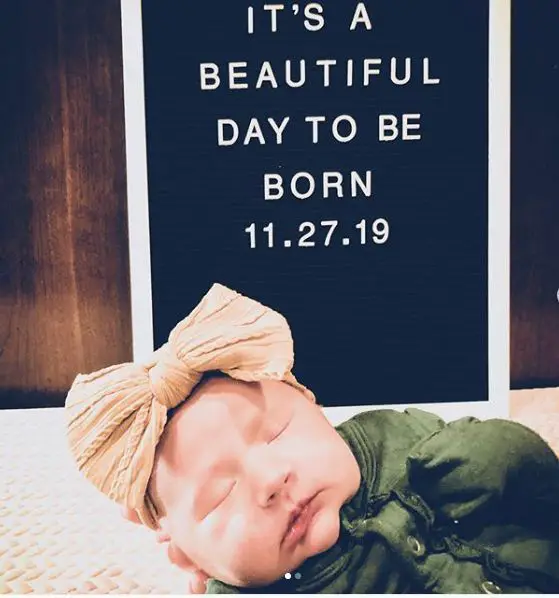 Anna Renee Duggar's newborn daughter on 28 November 2019 (Photo: Anna ReneeDuggar's Instagram) 
Going back to the beginning of their relationship, the couple met for the first time at a Christian homeschooling convention in 2006 when Anna was a teen.
She was not allowed to share her love feelings with her siblings, so she talked directly to her mother, and the two began courting after convincing both's ultra-conservative parents. 
Both of them were allowed no physical until engagement and no time alone until marriage. After two years of courtship, Josh proposed to Anna on her 20th birthday. 
Next year on 26th September 2008, the couple tied the knot at Buford Grove Baptist Church in Hillard, Florida, where they shared their first kiss during the wedding.
They also vowed to leave the number of children that they will have in future "up to the God'.
After one year, the couple welcomed their first child Mackynzie Renee on 8th October 2009 and continued to welcome four more children: Michael James, Marcus Anthony, Meredith Grace, and Mason Garrett serially.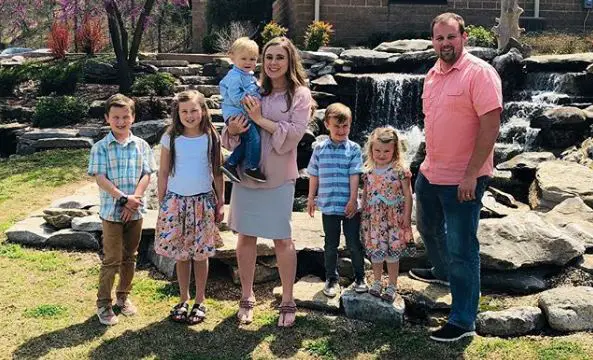 Anna Renee Duggar with her husband and five children on 8 April 2019 (Photo: Anna Renee Duggar's Instagram)
One can see Anna and her family details in the TLC's American reality television show, 19 Kids and Counting. 
Details Of Her Husband, Josh Duggar
Josh Duggar was born on 3rd March 1988 in Tontitown, Arkansas, as the eldest child among the nineteen kids born to Jim Bob Duggar and Michelle Duggar, popularly known as the Duggar family. 
See Also: Vicki Graf Wiki, Age, Husband, Salary
He, along with his devout Baptist family, is featured in 19 Kids and Counting, which aired from 2008 to 2015, where all the life events and birth of children in the family were showed. 
In mid-May 2015, a 2006 police report revealed that when Josh was 14 and 15 years of age, his then-underage sisters were victims of molestation. 
Also, in November 2015, adult movie star Danica Dillon sued Josh for assaulting her during consensual sex at a Philadelphia strip club in the same year, but later, she dismissed the suit. 
In the same year, Josh apologized for his wrongdoings and further confessed that he had been unfaithful to his family and wife after secretly viewing adult films on the internet as an addiction over the last several years, which nearly devasted his relationship with Anna. 
However, he was kept in rehab for six months, and after getting marriage counseling, the couple decided to continue their married life.