"Funny, outgoing, and confident"- Analyse Talavera sure challenges the stereotyping that is done when it comes to a female athlete. 
The gorgeous, easily passable model has a lot going for her besides her sports career.
At some point in her life, Analyse thought that she was sure to go to a fashion school, as she also imagined becoming a fashion designer. 
But then, as she attended Notre Dame High School, she started developing a deeper passion for soccer, even if it was way in the earlier days that she started playing one. 
And, it was not surprising she got scouted by many top universities.
Meanwhile, she chose to attend the University of Nevada to play on the Women's Soccer Team, where she also studied for Community Health Sciences. 
Finally, in May 2019, Analyse graduated from the University of Nevada, only to find herself in the Big Brother House. 
More From Big Brother: Zach Rance Wiki, Girlfriend, Dating, Gay, Instagram, Height, Big Brother
As Analyse, age 22, went on ahead in the most exciting journey of her life, she was no longer plausible to stay out of the limelight.
It turned out, the now-evicted cast of Big Brother 21 was prepared to win the cash money of $500K whatever way feasible, even if it meant to be hated by the whole America for her strategies. Sadly though, the trophy was not intended to be hers.
Analyse Talavera Dating Boyfriend?
While inside the famous yet the dramatic house, Analyse enjoyed her time with Jack Matthews.
There were several occasions when she was spotted having the coziest moments with him. She even confirmed to "hooking-up" with him.
However, despite admitting to their intimate relationship, in the beginning, they denied being an item.
Eventually, Jack and Analyse, sure spoke about their special affair, and once outside the reality show, they shared so many laughs and really got the opportunity to know one another even better. 
And, just when the people were expecting a happily ever after for them, the TV couple announced to have called it quits.
Jack wrote on his Instagram that they mutually decided on a break without any hard feelings or bad blood, but with "absolute LOVE in their hearts."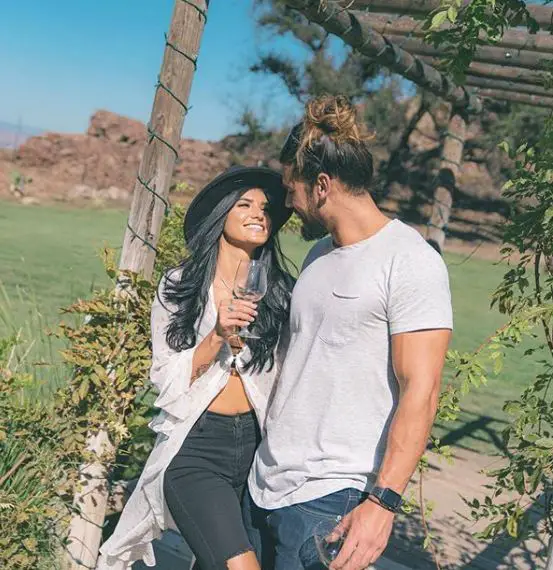 Jack Matthews speaks on his split with Analyse Talavera on 6 November 2019 (Photo: Jack Matthews' Instagram)
Analyse, too, only had the sweetest of words for her ex-boyfriend when talking about the split.
Continue Reading: Elena Davies Age, Boyfriend, Split
And, looking on a brighter side, it is indeed an exemplary process they chose to put an end to thier dating life.
Wiki / Bio
Born and raised in California, Analyse grew up having a big crush on tanning.
The stunner, standing to a height that looks good on her, confirmed that if tanning could be an occupation, there is no doubt that it would be her one true calling.
She grew up alongside her sisters, Jessica and Faith, and brother Giancarlo, with the care of her parents, Roy and Stacy.
Analyse is yet to unfold the ethnicity she acquired from her parents.