The former Nevada GOP chairwoman Amy Tarkanian, a mother of four, went through a tough time seeing her little son suffer an ischemic stroke at five. But she turned the unfortunate incident into an aspiration by founding Tark Toy Drive, a non-profit organization dedicated to bringing comfort to sick children in hospitals through toy distribution.
Tark Toy Drive
The kind-hearted mother came up with this humble idea of distributing toys to the kids in hospital after seeing her own son, Jerry, suffer from a stroke at the mere age of five. 
She said that he would be holding onto his stuffed toy out of fear during his test at the hospital, which would somewhat give him a momentary comfort. Luckily her son recovered from the stroke, but she couldn't stop thinking about other sick kids too.
Just looking at how a toy could help him through the hospital test, it struck into her mind about helping other kids, and that's how she came about founding Tark Toy Drive. 
After almost a year of toy collection through charity, the organization began the toy distribution on March 2016 at the UMC and Valley Children Hospital in California. It is the effort of her entire family to bring comfort to sick children.  
 Amy Tarkanian's Family: Husband, Children
Tarkanian tied the knot with Daniel George John Tarkanian, an attorney, and businessman, in 2001. Daniel is also recognized as the son of one of the prominent American Basketball Coaches, Jerry Tarkanian. 
The couple has four children, Louis, Ashley, Ava, and Jerry, out of which Ashley and Ava are twins. And the entire family resides in Los Angeles.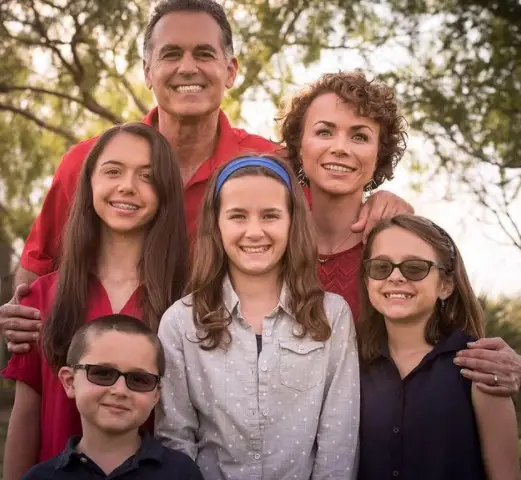 Amy Tarkanian with her husband and kids. (Source: Instagram)
Short Bio: Age, Parents, Career
Born on May 1, 1977, in California, Tarkanian's parents are Gary Hanson and Anita Hanson. 
She began her career as a political commentator and served as Nevada Republican's elected president in 2011. Shortly after, she gave up the position to support her husband's election campaign. 
Later in 2016, the republican became the Nevada delegation's part in Cleveland and was a member of the Leukemia and Lymphoma Association's fund-raising committee. 
Besides, she also made her television appearance as a political commentator and has served briefly on media outlets, including Fox News and RT TV.