The spaceflight historian Amy Shira Teitel unpacks the struggles women faced as an astronaut in the past through her book Fighting For Space. The book was published in 2020, and it explores the story of female pilots during the era of space flight emergence in America. 
Fighting For Space By Amy Shira Teitel
Teitel's second book, written after Breaking the Chains of Gravity, unloads the history of spaceflight through the dual biography of two ambitious women who fought their way to become the first female astronauts of America, Jerri Cobb and Jacqueline Cochran. 
The story centers on the famous story of the group 'Mercury 13'. The group, a part of the American astronaut training program, was formed in 1959, consisting of thirteen women undergoing astronaut training. 
Revealing the truth of what really happened to the group, Teitel also sheds light on the real story of Corchan, who is considered a 'villain' because of her testimonial against women in spaceflight that caused the 'Mercury 13' mission to fail. 
Inspired by the fascinating story of the thirteen pilot women, Teitel draws the facts on her book through surfing thousand of archives and new materials and presents the history from a new perspective.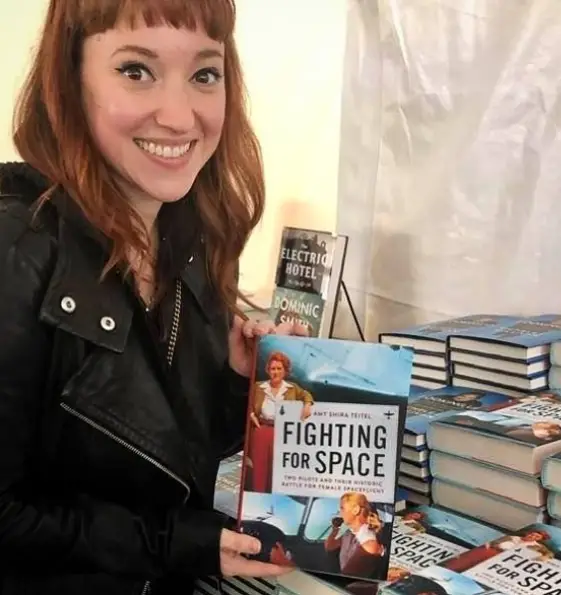 Amy Shira Teitel with her book Fighting For Space. (Source: Instagram)
What Fascinated Teitel To Pursue Her Career?
As the Fighting For Space author tells in one of her YouTube videos, her love affair for space began since she was seven years old, when she first explored her curiosity through the school science project she did on Venus. Although the whole concept of how the planet rotates and its intriguing characteristics seemed vague to her at the time, it only made her more curious, and she wanted to learn more about it. 
Moreover, as a kid, when she first came across a cartoon image of the apollo mission of two astronauts on the surface of the moon, it triggered her enthusiasm to get into the depth of how it happened. 
Following her passion for unraveling the fascinating mysteries of space, she acquired a bachelor's degree in history of science and technology and enrolled in the York University for a master's degree in science and technology. 
Mostly known for sharing her expertise through videos in her YouTube channel The Vintage Space, she has also written for media outlets such as Daily Beast, Discovery News, Scientific American, Al Jazeera English, Ars Technica, and National Geographic. 
Even though it is unknown how much net worth Teitel has amassed from her successful career, as per analysis, her yearly income from her YouTube might be around 10.9 thousand dollars. 
Is She Married?
Although we know all about her professional aspect, her personal life is difficult to crack into. Asides from her brilliant accomplishments in her profession, she hasn't yet revealed her private affairs publicly. 
However, she once made a Twitter post of her boyfriend's x-ray and captioned it as, "Behold my boyfriend's screwed together clavicle."  Besides few more Twitter posts about her partner back then, she hasn't made further updates about her relationship ever since.
Amy Shira Teitel posting her boyfriend's x-ray. (Source: Twitter)