Reality TV star Amina Buddafly is a member of the R&B duo, Black Buddafly, alongside her twin sister, Jazz. Amina also appeared on the reality VH1 's reality TV show, Love and Hip-hop Season 4. The show provided her with better exposure to the media world and polished her music skills. 
Amina Buddafly is much more than a TV personality; she is also active on YouTube with 90 videos and 47K subscribers. Although she has a successful career, it is not the same with her personal life.
Her marriage shattered after facing many problems, but as a boss lady, Amina took the best decision for herself and her daughter.
Amina Buddafly Net Worth
Impressively, Amina started her musical career just at six years of age, when she joined a classical choir and started doing musicals.
After releasing her first single, Choyce, she and her sisters (bandmates) moved to the United States. She is also an active songwriter and has written over 400 songs, besides performing in the Legendary Village Underground house band in New York for four years.
Worth The Read: Daryl Hall Wiki, Wife, Divorce, Girlfriend and Net Worth
Amina has also released an EP entitled I Am Part 1, and I Am Part 2. She is also notable for her singles like Don't Wanna be right and MyMusic.
For her outstanding musical career, YouTube channel and her book, she sure has amassed a great deal of money. She is now at the height of her career, and her net worth is expected to be $600K.
Married To Peter Gunz, Kids
Amina Buddafly found love in the reality TV show, Love and Hip-Hop: New York when she met fellow star Peter Gunz, who is a rapper. She was in love with him, and despite Peter Gunz's on and off relationship with Tara Wallace, she said that she was happy to be with him.
In the reality TV show, Amina was criticized for putting up with Peter who repeatedly cheated on Amina with Tara, but Amina later revealed that she and Peter had secretly married, and she was only trying to protect her marriage.
Amina also talked about the proposal and the wedding, when she revealed that Peter didn't even have a ring when he proposed Amina.
The proposal was just random, and it was only after discussing for weeks that Peter had popped up the question.
Even at the time of the proposal and the wedding, Amina had her doubts about Peter's affair, but she decided to unsee it. 
Despite the tumultuous relationships, the couple somehow worked things for a decade and gave birth to two kids named Cori and Bronx.
However, the birth of two daughters in the family was of no help as in January 2018, Amina finally decided to end things for good. She later revealed that she had moved out in 2016, but only decided to legally separate in 2018.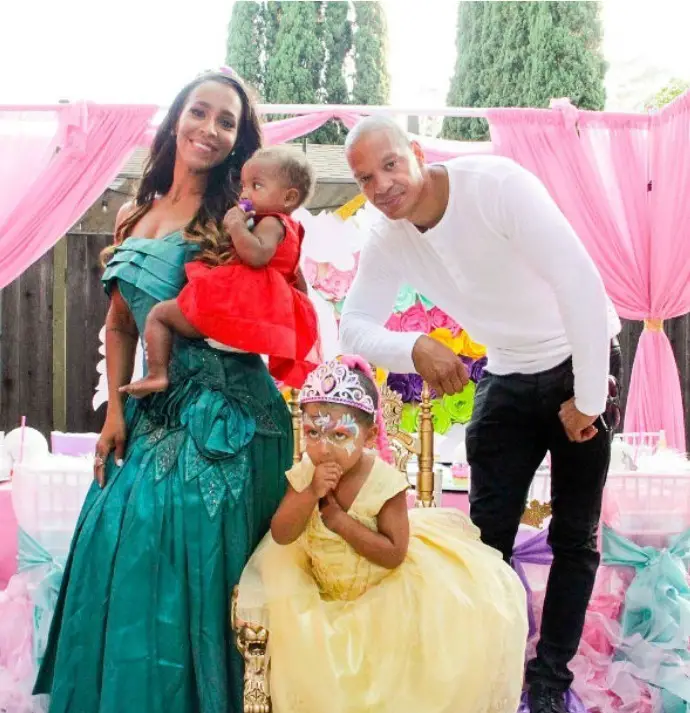 Amina Buddafly celebrates her daughter Cori Plankey's third birthday on 30 July 2017 (Photo: bckonline.com)
The marriage definitely did not go well; let's not forget about the fact that Amina had proudly tattooed her married name on her rib.
Even though the marriage was a disaster, Peter Gunz was expected to be a good father, but that didn't happen as well. He was apparently absent in Corey's fourth birthday. It seems like co-parenting isn't going well right now!
You May Also Like: Linda Perry Wiki, Married, Husband, Ethnicity and Net Worth
To talk about her side of the relationship she shared with Peter and Tara Wallace, who shares three sons with Peter, Amina has published a book titled, "The Other Woman."
Amina Buddafly Bio: Mother & Nationality
Amina was born on 18 April of 1983 in Hamburg, making her nationality is German. Her bio reveals that she embraces a mixed ethnicity as her father is Senegalese and her mother is German.
Growing up in a musical family, Amina's father inspired her to be a musician as he was a huge fan of Jazz music. All five members of Amina's family were very much engrossed in music and occasionally sang songs together when Amina's father played music.
In fact, it was her mother who introduced Amina to famous artists like Marvin Gaye, The Jackson 5, and Earth, Wind & Fire. 
Amina shares a close relationship with her elder sister, Sophie, and her twin sister Jazz.