American rock climber Alex Honnold is best known for his free solo ascents of big walls.
His fate is exacerbated by the fact that he is the first climber to rise from the margins of lonely fringe sports to become a well-known ceebrity figure. 
Even though Alex believes that he is not the strongest or most technically gifted rock climber, he is exceptionally competent and cool-headed. 
Alex Honnold Age, Sister
Alex Honnold was born in California on 17 August 1985 to his parents, Dierdre Wolownick and Charles Forrest Honnold, who later divorced. 
Alex started climbing in a climbing gym at the age of five alongside his sister, Stasia Honnold. 
But over the year, his sister moved into other sports and started showing interest in biking and running. As of now, Stasia has been known to explore the country on 2,5000-kilometers bike rides. 
As for his education, Alex graduated from Mira Loma High School. Later, he joined the University of California, to study Civil Engineering. But he dropped out of the University to drive around and to go climbing. 
Alex Honnold Married To Wife / Girlfriend?
Alex Honnold has been relishing his dating life with his girlfriend, Sanni McCandless, for several years now. 
As there is a saying that people meet when they are meant to meet. Likewise, Alex and Sanni first met at one of Alex's book signings.
When Sanni walked up to Alex's table to sign their co-copy of his book, Sanni slipped her phone number to Alex. Shortly after that, Alex asked Sanni for a dinner date, and the rest is history.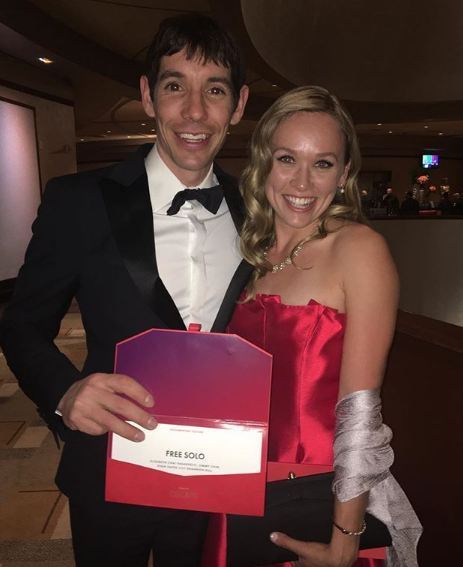 Alex Honnold with his girlfriend, Sanni McCandless on 26 February 2019 (Photo: Alex Honnold's Instagram)
Hopefully, Alex and his girlfriend will take their relationship into the next level and changed their tag as girlfriend-boyfriend into legally married husband and wife. 
His Net Worth
After Alex dropped out of his University, he started traveling around for rock climbing made his van his home. Being devoted to rock climbing, he has set multiple records. 
Also Read: Grayston Leonard Wiki, Age, Bekah Martinez
Alex has made himself mentally strong to handle the world's big walls and is not fazed by height or affected by fear.
Because of his height of 5 feet 11 inches (1.80 meters) and a slim figure of 161 pounds, his body can easily carry his weight while climbing. 
Alex has also been part of various documentaries like Free Solo, that even documentary won the Best Documentary Feature and earned more than $20 million at the box office.
From his career and the obvious contributions, Alex has made a total net worth of $1.5 million.