Alex Clark is an American Youtuber, comedian, and animator who entertains his followers by several videos shared on his YouTube channel, which has accumulated more than 4.4 million subscribers. 
As a promising YouTuber, he has received four People's Choice Awards and has also been nominated for a Streamy Award. 
Alex Clark's Bio, Age
Alex Clark was born on 1st February 1985 in Massachusetts. 
His family is originally from Romania. He has two younger sisters named Arianna and Aubrey. He has shared some pictures of her sisters through his social media post. 
Growing up watching one of his favorites, Aladdin and other animated movies, Alex was fascinated by animation and had the thought to become an animator one day. He began to take art classes, but soon, he realized that his true passion wasn't animation; it was a comedy. 
You May Like: What Is Jacksepticeye Real Name? Girlfriend, Dating, Family, Net Worth
After everything, he started his career as a comedian by performing in Boston, Massachusetts.
But when he saw juggling street performers entertaining crowd more efficiently and earning more money, Alex went to some of jugglings clubs and learned juggling. 
Eventually, he went traveling to several cities in different countries, showing his talents in the streets. When he saw people enjoying him when he was performing, he found out that YouTube was the best platform to promote his shows. That was when he figured out that cartoon was the best way to present his skills to the public, which reignited his childhood passion for animation. 
Finally, he created his YouTube channel, It's Alex Clark, on 2nd December 2009, and began to post random videos.
However, it wasn't until December 2012, when he began to upload animated comedy videos after watching a few videos of Swoozie, one of Youtube's first animators. 
By, now he has become one of the world's top YouTubers. 
Married To Wife/ Girlfriend
Alex Clark is happily married to his wife, Pam. 
The couple tied the knot in late October 2019. They can be seen sharing several beautiful photos of enjoying time together on their social media posts.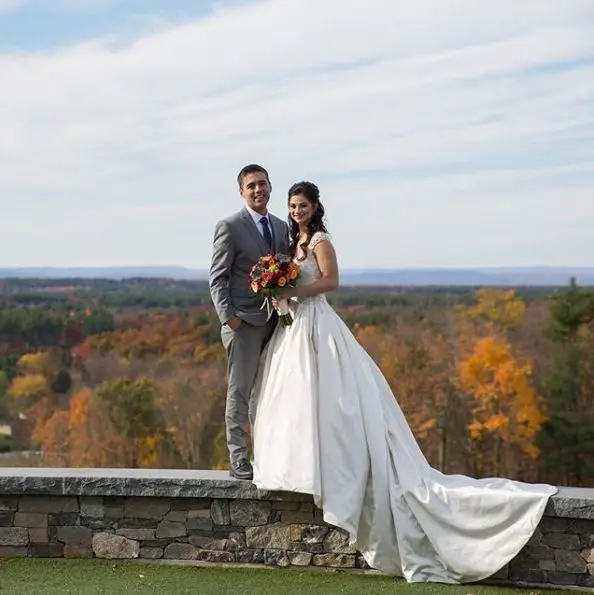 Alex Clark with his wife, Pam, on their wedding photo shared on 27 November 2019 (Photo: Pam's Instagram)
As of their love story, Alex first met Pam when he was in college as a freshman. He was much attracted by her.
Since they were in the same class, they soon became friends. With time, they became girlfriend-boyfriend, and now, they are committed to a lifelong relationship.
See Also: Emma Chamberlain Age & Parents Details; Plus Height, Net Worth, Family, Boyfriend
His wife, Pam, is also a YouTuber. She owns her own YouTube channel named PamOnSunset with more than 100K subscribers, where she uploads reviews of DIY projects related to food, make-up, and home design. 
Face Reveal Issue
In 2017, Alex Clark deleted his 2016's VidCon and Disney vlog.
After doing this, he was speculated that he was the person who the YouTube animator, Jaiden, was talking about in her video called 'Why I Don't Have A Face Reveal' shared on her YouTube channel, Jaiden Animations.
Though Jaiden hadn't specified the blogger, he was pointed out since he didn't respond to the allegations, unlike other YouTubers. 
Net Worth
Though Alex Clark has not revealed his exact net worth, it can be said that he has garnered a remarkable sum seeing his earnings.
Through his Youtube channel only, he makes an annual income ranged from 14.5K to 231K. He also sells some goods on his website, itsalexclark.com.