Expressing yourself through moves. Not everyone can perfect their stances in the field.
AJ Pritchard is one extraordinary soul, whose steps have touched many hearts.
Not only his dance steps but also his attractive personality has been able to charm his audience.
His simple but stunning tattoo quoted "AJ," in his forearm, also adds to his beautiful personality and make him dazzle on stage.
No doubt, AJ reaches to greater places in the future, side by his talent, hard work, and grounded nature.
AJ Pritchard's Age, Family
The 5th November 1994 born famous dancer, AJ Pritchard, is 24 years of age in the time being.
He is a British star choreographer as well as a television personality who stands at a height of 5 feet 7 inches (1.73 meters).
AJ was born to dancer father, Adrian Pritchard, and mother, Debi Pritchard.
He grew up alongside his younger brother, Curtis Pritchard, also a ballroom dancer and choreographer.
You May Also Like: Miles Brown Parents, Age, Bio, DWTS Juniors, Height
The overall family environment for AJ and his brother was genuinely favorable for the career of their interest.
Their father, Adrian, was a dancer himself and supposedly always encouraged his sons to follow their dream paths.
The running blood of these young stars undoubtedly rooted back to the artistic field, for the excellence their father possessed in the area.
No doubt, the positions AJ and Curtis have reached today, the brothers have made their parents very proud.
Further, the coming days, seemingly won't be of any exception, for these beautiful souls will continue their beautiful work.
Married to Girlfriend or Single?
AJ Pritchard has been in a relationship with Abbie Quinnen for about six months now.
As per the reports, AJ met Abbie during early May 2019. The two caught each other's eyes soon and started dating ever since.
Although the relationship between AJ and Abbie has been going smooth, there were some reports of their breakup during late September 2019.
Some pictures of AJ and his dance partner, Saffron getting cozy with one another went viral.
However, those pictures were of their dance rehearsal and were strictly limited to their professional relationship.
Later, with AJ and his girlfriend's social media posts, it was clear that there was nothing wrong between them.
Moreover, it was revealed that Abbie was more of a supportive kind of girlfriend.
She always encouraged her man to work hard in his field of interest and backed him with his professional relationships.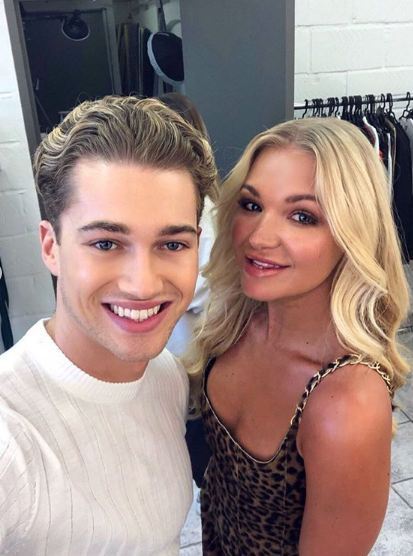 AJ Pritchard poses with his girlfriend, Abbie Quinnen on 8th October 2019 (Photo: Abbie Quinnen's Instagram)
Strengthening the other's professional grounds with one's support always works best in a relationship.
It has undoubtedly splendidly carried the relationship between AJ and Abbie in the best possible way.
Thus, AJ is neither single nor gay. He is in a fantastic relationship with the lady of his dreams, Abbie.
Abbie is undoubtedly a perfect girlfriend for AJ, who stands out for the man in every case.
Hopefully, this incredible bond between the two leads them to a marital connection, sooner or later.