Vivian Jill Lawrence is the most popular actress in Ghana. The highly respected star is best regarded for her versatility. 
Over the course of the 15 years and still counting acting career, she has firmly established herself as a person to watch out for in her movie industry, Kumawood. 
Having starred in countless Kumawood-produced movies, Vivian is considered one of the richest actors in the industry. Some of her credential projects include Kayayo, Ama Ghana, Sekina, Rebecca, Adom, Asew Red Card, and Daakye Asem. 
Vivian Jill Lawrence Bio: Parents & Net Worth
On several occasions, Vivian has made it clear that she is one of the well-heeled stars in Ghana. However, she talked about it more specifically during the TV show, Angye Fie on RTV. 
As she shared her life story on how she made to a fabulous career, she revealed her business aside acting and also the source of her net worth, which is estimated to be $150K. 
Continue The Interesting Read: Camelia Kath Bio, Net Worth, Husband, Family
The Award-winning actress, age 35, was born on 11 September 1983 to a Scottish father and a Ghanaian mother. Thus, she embraces a mixed ethnicity. 
Her mother, who instilled in Vivian her sincerity towards religion is no more living, to witness her build a fantastic career. Her parents even went through an unhealthy split at some point in their married life.
The Ghanian actor is yet to unwrap the details to her height, weight, and body measurements. 
Married To Husband?
At some point in her life, Vivian has addressed that she is more of a principle person and never wants to be taken for granted. It might be the reason she is taking her time to settle for good.
Many men have come her way but never stayed too long. Her fans and followers never get tired of asking when and to whom would she get married to.
With the release of her wedding-themed photoshoot recently in 2019, she was even showered with congratulatory messages all over her social media pages.
However, she assured her fandom that if she gets married, someday she will undoubtedly unfold the story about her husband.
Vivian Jill Lawrence's Life With Her Children
While Vivian is not married to anyone as of now, she is already a proud mother of her children. 
Vivian gave birth to her first son, Clinton Prempeh, at the age of 15 while she was a final year student in senior high school. 
Her mother was against abortion as per her strict religious upbringing. Thus, as the only daughter of her parents, she got full support from them during her pregnancy.
Enjoy Reading: Jessica Steen Net Worth, Husband, Family
She had to single parent Clinton because his father died of some unexplained reason. 
Furthermore, Vivian also has a daughter named Mercy. Her daughter though not biological, loves her mother unconditionally.
The family comprises of one more member, their little bundle of joy, Alfie Nana Amponsah Okobeng. Vivian is yet to introduce Alfie's father.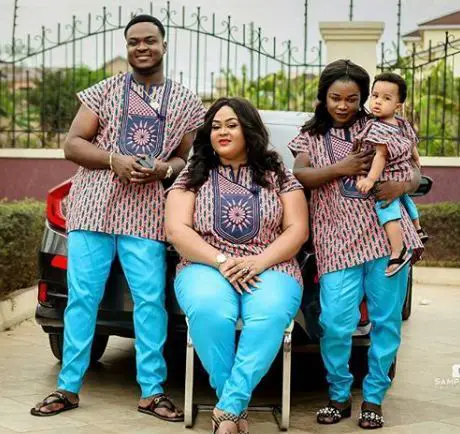 Vivian Jill Lawrence wished her little one- Alfie Nana Amponsah Okobeng on his birthday with a family photo that flaunted her three beautiful Children on 23 February 2018 (Photo: Vivian Jill Lawrence's Instagram)
As of now, Vivan lives with contentment with her small family and three children. Together they are based in their beautiful house in Kumasi.