Tembi Locke is an American actress who has made her appearances in several movies and TV shows.
However, she is best recognized for playing 'Dr. Grace Monroe' on Syfy's series, Eureka, and 'Dr. Diana Davis' in Sliders. Meanwhile, her memorable portrayals in forever favorite, The Mentalist, Castle and Bones cannot go unheard of.
In recent times, the gorgeous performed in the second installment of Hulu original Into the Dark series.
Never limited to a single line of work, she is also acclaimed for her literary work, A Memoir of Love, Finding Home, and Sicily. 
Made available for the readers as of 30th April 2019, Tembi's memoir is all about her multi-cultural romance with her Italian husband and the grief that followed after his ill-timed demise.
Details To Her Married Life: Husband & Daughter
Tembi met the love of her life when she was amidst a visit to Italy. The lucky man, Saro, forever told her that the encounter they shared, was love at first sight kind of thing for him.
Completely captivated by one another, three years later, they were seeking bliss in their married life.
And, in 2002, a misfortune surrounded in their otherwise love and laughter-filled vicinity. Saro was diagnosed with a rare kind of cancer. Even as such times, they did not lose hope and sought solace in each other.
A decade went by, Tembi helped her husband with his medical procedures in every possible way, and they even adopted a beautiful daughter, Zoela.
The family of three exchanged their happily-ever-after until Saro's death hit the family in the year of 2012.
For a while, it sure became a struggle to let his memories pass by. But then, their journey together as lovers, partners, and family stays on in many forms today, so said Tembi one of her blog-writing.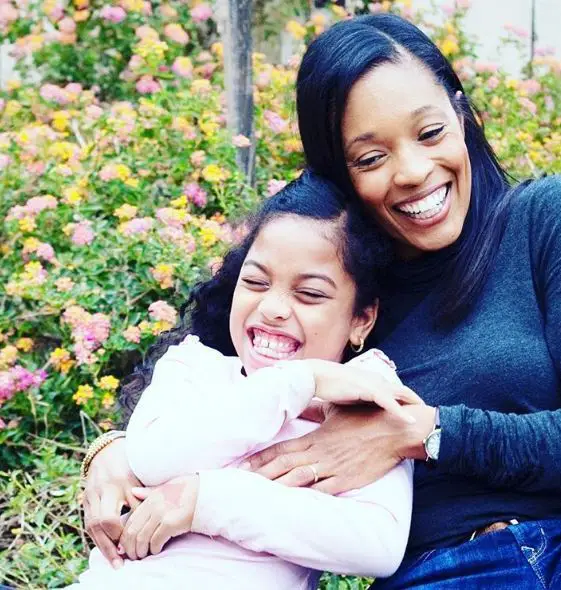 Tembi Locke with her daughter, Zoela, on Valentine's Day on 14 February 2019 (Photo: Tembi Locke's Instagram)
Eventually, the mother and daughter duo, having lost their beloved one, traveled to Italy, the place being the birthplace of Saro.
Tembi wanted her daughter to know more about her late father, his cultures and family. In the process, she wrote all about it in her memoir and later on published it as a book.
Today, besides rocking her career, she seeks comfort in cooking and looking after her daughter and the precious memories of her husband, of course.
Tembi Locke's Bio
Born as Tembekile Locke, Tembi now, age 49, stands to an average height of 5 feet and 4 inches (1.63 meters).
Keep Reading: Patina Miller Husband, Children, Family, Net Worth
Her father, a prominent lawyer and her mother, a successful businesswoman, raised her alongside her younger sister, Attica Locke, who, like her, happens to own a beautiful career.
Attica is an award-winning author of fiction and television. The younger Locke is also known for her contribution as a writer and producer for the television drama series, Empire.
Temi's parents, both civil rights activists, sure did an astounding job raising their daughters.