Storm Reid affiliated herself to the entertaiment not just because of her passion for acting, but for a more prominent cause to prove.
Storm wants people to be inspired by the fact that if a little African-American girl like herself can look forward to an aspiring career in Hollywood, all the girls with mixed ethnicity around the world can do the same, and eventually conquer the world someday. 
She sure finds it surreal that with her very venture, she gets to empower many other souls like her. 
And, the determination and confidence in Storm have so much to do with her parents who want the best for her at all cost. 
Who Are Storm Reid's Parents?
Impressed by Storm's adorable onscreen portrayals, her audiences would like to know more of her real-life scenes as well and a which is understandable.
People are especially interested to know about her lucky folks who did a fantastic job raising her up. 
Get To Know More From The Industry: Lucy Boynton Dating, Family, Net Worth
And, from what is availed so far, Storm was born to Rodney Reid and Robyn Simpson in Atlanta, Georgia, on 1st July 2003. 
Besides inspiring his daughter to be the person she is today, Storm's father, Rodney, goes as a master and motivator on his social media bio while he is reportedly a personal trainer and life coach by profession.
And, her mother, Robyn, is already a proven member of the film and television industry serving for the Seed & Wings Productions.
And more to the Reid-family is Iman Reid, Paris Reid, Josh Reid- Storm's siblings, who like her, are blessed with beautiful yet unique names.
Her older sisters, Iman, is an air hostess, and Paris is a television and film producer.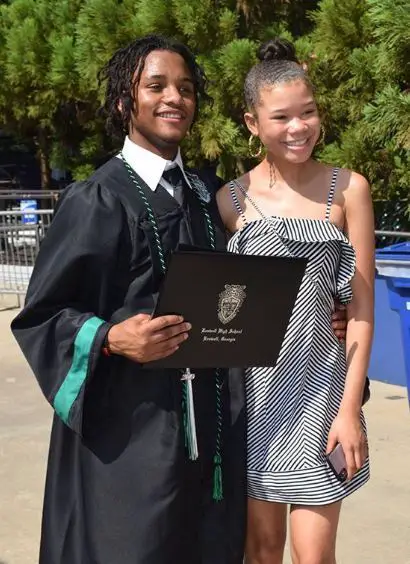 Storm Reid poses with her brother, Josh Reid on his Graduation Day on 24 May 2019 (Photo: Storm Reid's Instagram)
Storm, the youngest one in the family, now of age 16 and already standing to a height of 5 feet and 7 inches (1.7 meters), unquestionably grew up pampered by her folks and older siblings.
Growing up, Strom always had this fear of being too tall because her father and both her sisters stood to the most towering heights.
She never wanted to grow beyond a six-feet-tall. And now only time will tell if she exceeds her "pretty tall" height!
Movies & TV shows
Surprisingly, Storm started out on her acting career by the time she was only three.
It was a few televison commercials, and only then she made her film debut in the 2012 short film, The Girls of Summer.
The following year followed a script for 12 Years a Slave where she played 'Emmy' alongside Brad Pitt.
Continue Reading: Ashley Aufderheide Wiki, Parents, Dating, Net Worth
She later confirmed that working in the project really helped her grow as a person and as a student.
As of 2019, Storm also took the audience by surprise by jumping into the role of Lisa in Netflix's When They See Us.
And, lately, she already has her plates full, getting to start as Gia in the HBO's smash hit, Euphoria, and a lined up amazing scripts to several movies and TV shows waiting for her.