The Raising Hope actress Shannon Woodward has stirred up the media several times with her personal life affairs. Besides acting, her love life has forever been a public interest. Time and again, she made tabloid headlines, whether as a girlfriend of Andrew Garfield or as a rumored girlfriend of Robert Pattinson.  
Who Is Shannon Woodward Dating?
As for now, the actress seems to be single, as her social media presence suggests. But, she does have a dating history real-ones as well as rumored-one. 
Woodward was in a long-term relationship with her ex-boyfriend Andrew Garfield. Having been in a relationship for over three years, several of her fans have begun to think Garfield would be the one she would get married to and become her future husband. But to their disappointment, their bond ended in 2011.  
As reported by Dailymail, the reason for their split might have been their busy schedules. Though both of them excelled in their career path, The Social network actor was especially at the heights of his career doing several hit films such as Spider-Man and Never Let Me Go and the Oscar-nominated The Social network. 
With the career rise and utterly busy lifestyle, the couple couldn't hang onto each other and give enough time to their relationship. A source also informed the Dailymail that they hadn't met or spoke to one another for weeks. Moreover, justifying their relationship status at the time, Garfield said, 
I think my girlfriend is proud of me and the fact that I've remained grounded. I'm just busier. That's the main thing. I haven't got as much time to mope about and complain that I'm bored. She travels with me when she's not working. 
Just as the news of Woodward's breakup was about to settle from the hype, there was yet another tabloid news circulating the actress. The alleged rumor widespread after Woodward was spotted with the Twilight actor Robert Pattinson in LA. 
The fact that Pattinson had just broken up with his former girlfriend Kristen Stewart gave the rumor some edge. But, the media couldn't entertain the rumor anymore as Woodward herself declared it to be false through her tweet on September 1, 2012, where she wrote, 
FACTS: Crocs are not fashionable, Obama was born in the United States, and I am absolutely not trying to date Robert Pattinson.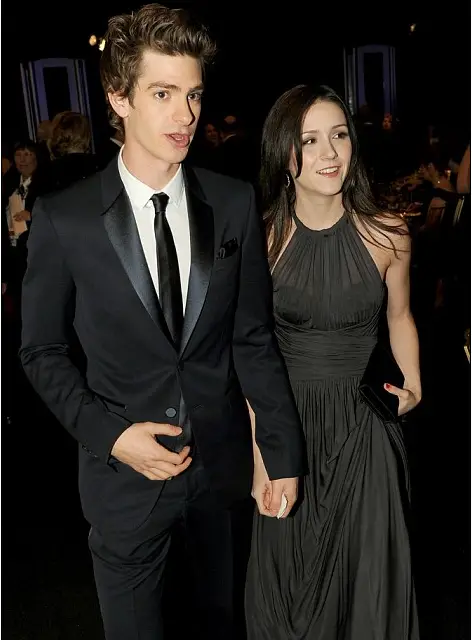 Shannon Woodward and Andrew Garfield. (Source: Dailymail)
Woodward Comes Out As Lesbian
She made a major announcement on her Twitter on February 25, 2021, saying she was gay. On her tweet, she wrote that she never intended to keep her 'queerness' a secret. However, her fans had already made speculations about her sexuality and assumed she might be a lesbian, but now the actress cleared the air herself. 
Time and again, she has made some posts talking about gay people. Just as in her Twitter post of 2016, where she talks wrote, " Mike Pence wants to convert gay people with electroshock therapy." However, there hasn't been any news of her having a partner since she came out. So, there might still be more surprises in store for her fans. 
my queerness was never something I wanted to talk about with strangers, not because it was literally ever a secret (it was never a secret). it just... is mine. — Shannon Woodward (@shannonwoodward) February 25, 2021
What Do We Know Of Her Family and Net Worth?
The Raising Hope star, who stands at the height of 1.6 meters, is not very open about her family members, but her pursuit of acting would not have been possible without her parent's support. From a young age, she got the chance to star in community plays in Florida.
Continuing her immense passion for acting, she began acting professionally in 1991. Since then, she has been in several major projects such as Raising Hope, Westworld, The Last of Us Part II, and Katy Perry's music video, Hot n Cold. 
Furthermore, according to source reports, Woodward, Hollywood's one of the prominent actors, is estimated to have amassed a net worth of 3 million dollars.