Once Octavia Spencer realized that people were paid to live fantasy lives on television, all she wanted to do was "act." And, by the time she caught the acting bug, she was only five or six. 
Although she started sooner, it was only after years of "scene-stealing" small roles that Octavia rose to the prominence which she deserved all the while.
The 'Minny Jackson' she played in The Help (2011) won her an Academy Award (2011) for 'Best Supporting Actress.'
Continue Reading: Who Is Leslie Hamilton Gearren? Married Status, Net Worth
Then came the golden years in her career, winning her several prominent awards and nominations.
She even became the first black actress to receive two consecutive Academy Award nominations in back-to-back years in 2016 and 2017, and the first black actress to receive two Academy Award nominations after a win in 2011. 
Octavia Spencer Married To Husband, Children?
Octavia is happily "not married." 
Octavia opened up about her rarely discussed private affairs during an interview alongside the Oscar hopefuls Julia Roberts, Oprah Winfrey, Emma Thompson, Amy Adams and Lupita Nyong'o in The Hollywood Reporter.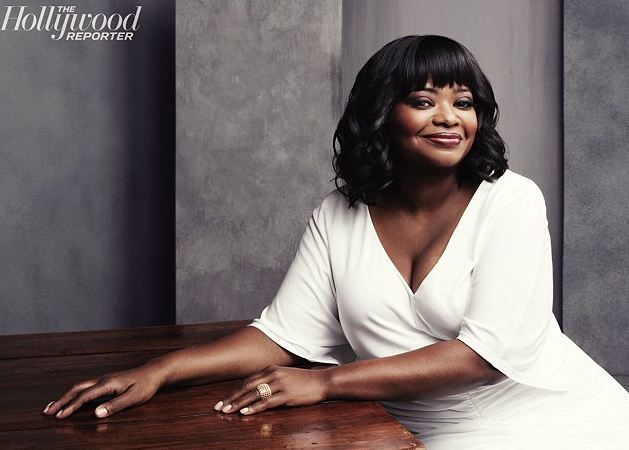 Octavia Spencer poses for The Hollywood Reporter's annual Actress Issue's roundtable (Photo: dailymail.co.uk)
As she sat down with the magazine for its annual roundtable 'Actress Issue'- she said that she should be married with nineteen kids.
But on the contrary, she is not, and she confirmed that she is far from sad about her "no plans" for children-
And now I'm thinking my eggs are dying on the shelf. They're going to go past their expiration date.

But it's what I chose, so I'm fine with that decision.
Having said it all, it was only back in July 2013 that she commented on her relationship status.
In 2013, she told Parade, she was dating less ever since the big fame struck her. Blaming the "visibility," she added that at the very point in her life, she was not looking, and her "he" would have to find his way to her. 
New Movie / Upcoming Projects
After the psychological horror movie, Ma (2019), where Octavia starred as Sue Ann "Ma" Ellington, in a leading role, several other projects like Dolittle, Onward, The Witches, awaits for there release in the year 2020. 
Net Worth
Having given plenty of box-offices hit movies, and TV shows, Octavia, as reported by the Celebrity Net Worth, owns riches valued at $12 million. She is expected to earn more than $75k per episode she appears in.
Zootopia (2016), the first animated film she starred in as "Mrs. Otterton," also happens to be the most rated movies of her in Rotten Tomatoes, collecting a gross $341 million. Second comes The Shape of Water (2017), earning $57.4 million.
Fascinating Facts About Octavia!
Octavia was seven and at school when she had her "magical" first kiss 

She is the second youngest of a family of seven children.

Growing up, her family was not so wealthy. However, her mother, Dellsena Spencer, a maid worked hard to fulfill their family's necessities.