Nina Kiri is a Serbian-born actress, paving a career in Canada and the United States for over a decade now. She commenced acting in school theatre performances.
Over the course of her career, she appeared in quite a few horror films, including Let Her Out (2016), The Haunted House on Kirby Road (2016), and The Heretics (2017). Her performance in the latter one even earned her the Festival Prize for 'Best Actress' at the Buffalo Dreams Fantastic Film Festival.
She mentioned during an interview that as a budding actor, the horror genre was her "excellent" opportunities to play the lead roles, to discover, develop and build her characters, and most importantly to grow in the "safety of small indie film crew."
Nina Kiri's Nationality / Ethnicity
The family roots Nina comes from are really important to her because she thinks that her roots have and will make up for who she is.
Citing her dual nationality, Serbian and Canadian, she said that she never sees herself as fully Canadian or fully Serbian. It is occupying the in-between spaces that she finds herself in.
Keep Reading: Is Lashana Lynch Lesbian? What's Her Dating Status Now??????
All in all, she is grateful for being able to speak different languages, travel to many places. "My world has always been bigger than Canada and Serbia,"- said Nina, who is fluent in French and Serbo-Croatian.
Playing 'Alma' In The Handmaid's Tale
Nina's character of Handmaid Ofrobert, whose real name is 'Alma,' appeared on the dystopian drama web television series, The Handmaid's Tale, based on the 1985 novel by Canadian author Margaret Atwood, since the pilot of the first season.
Nina admitted how the role served a turning point in her career. It opened up doors for her in many other prominent projects.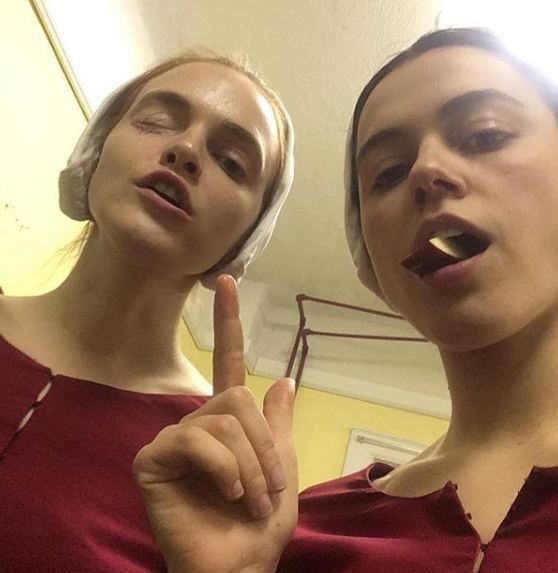 Nina Kiri with her co-star, at the sets of the third season of The Handmaid's Tale on 5th May 2019 (Photo: Nina Kiri's Instagram) 
In the beginning, Nina thought that she would only be part of the first and second episodes.
However, as her character continued to be written into the show, the whole process only felt more interesting and special to her.
Get To Know: Debs Howard Bio: Height, Movies, Family, Who Is Her Boyfriend?
She really was not anticipating the extent of publicity 'Alma' got her.
Short Bio: Parents' Details
Nina is a big fanatic of European cinema and this she got it from her mother, who is, according to her is a huge cinephile. She grew up watching the best European cinemas with her.
Beyond, this Nina never really spoke about her parents.
Movies & TV Shows
Nina also appeared in the movies Super Detention (2016) and Easy Land (2019).
Meanwhile, all of her television credits so far would be television movie, Geek Charming (2011), and shows like The Secret Circle (2012), and Supernatural (2012).
Quick Facts!
Nina was born in Belgrade, Serbia, on the 3rd of September 1992, while she grew up in Vancouver, Canada.
She stands to an average height of 5 feet and 5 inches (1.65 meters).