Millicent Simmonds is an American deaf actress well-known for her movie like Wonderstruck from where her career lifts as a successful actress. She received many awards including Critic's Choice Movie Award for Best Young Performance and Women Film Critics Circle Award for Best Young Actress and many more in 2017 for her exceptional work.
Despite being differently-abled, Simmonds has outperformed all other actors and is one of the most loved child actresses in the Hollywood. 
Millicent Simmonds Biography 
Millicent Simmonds aged 14 was born in 2003 in Utah, United States. She celebrates her birthday every year on 1st March. Simmonds is not the only child in her family and is blessed with four other siblings.
Simmonds lost her hearing power when she was just 12 month old due to an overdose of medication. Her parents especially her mother, Emily Simmonds had to learn the American Sign Language so that she and other family members could communicate with her Millicent. Simmonds started her school life at Jean Massieu School of the Deaf where she got the opportunity to join a drama group.
After completing sixth grade, she got the opportunity to perform at the Utah Shakespeare Festival at Cedar City.
Millicent Simmonds' Inspirational Struggle
Millicent Simmonds got a chance to debut in Hollywood movies which helped her gain name and fame in the industry. She made her breakout performance in the applaud movie Wonderstruck. She portrayed the role of Twelve years old deaf girl living in New Jersey in 1927 who runs away from home ramble through New York Museum of Natural History. Her solo film before Wonderstruck was Color the World in 2015.
Millicent got many recognition and many awards for her excellent performance in the movies. In 2017, she got Florida Film Critics Circle's Pauline Kael Breakout Award; Saturn Award for Best Performance by a Younger Actor; Seattle Film Critics Society Award for Best Youth Performance, and Washington D.C Area Film Critics Association Award for Best Youth Performance.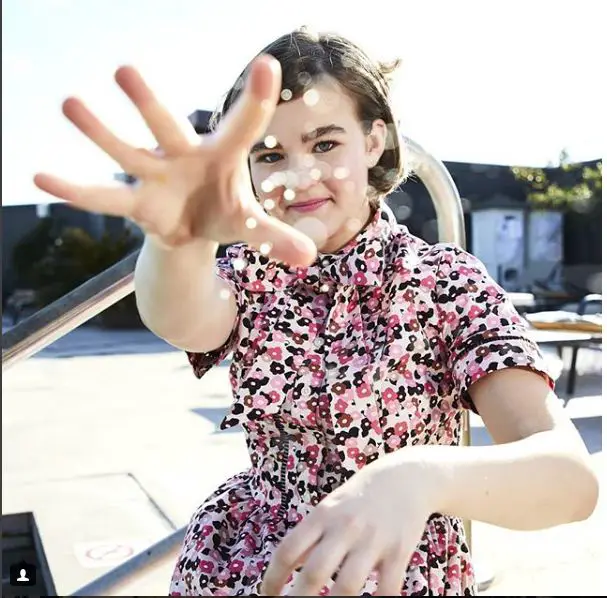 Millicent Simmonds in Empire Magazine photography on 27 April (Photo: Millicent's Instagram)
Moreover, she never thought that she would become one of the finest actresses in Hollywood. During her childhood, she dreamt of being a cop or fireman. She is an inspiration for other differently abled people who want to be noticed for their work.
In an interview with Interview magazine on 1 November 2017, Simmonds said:
If you're disabled or different from what general society deems normal, it's fine," she says. "There will always be people who won't accept you, but there are others you can find who will. You're never alone."
Today's world is a global platform where many people or celebrity are busy in their work, and hence it is hard to see them often. But changing the globalization and increasing interaction with different people through different social sites, it made them easy to connect with their favorite one.
One of them is Simmonds, she makes her interaction through her social sites with her well-wisher. It is difficult for her and fans to interact face to face so it is a natural option which can connect more rottenly. Furthermore, she is at the height of success through her hard work in 2018, and she got appointed in horror film A Quiet Place as the deaf daughter.