Merritt Wever is one of the prominent names in the entertainment industry who is well-recognized for her acts in Nurse Jackie, Godless and Unbelievable. No doubt she has done stunning in each of her projects but her astounding portrayal in Godless explores a different and versatile side of her talent.
Wever's Portrayal in Godless
Godless is an American miniseries where she showcases her talent through the role of Mary Agnes McNue. Released on November 22, 2017, the story plot of the series revolves around a small town in New Mexico that is almost completely populated by women with the majority of the men killed in a mining accident.
Wever explains the character Mary Agnes as tough and prickly, seeking economic independence. For the role that was set in the year 1884, the actress prepared herself by training in gunshots and horse riding and met some scholars who could guide her through the reality of the same-sex relationship during that time period which she has profoundly portrayed in the series. 
Moreover, for her astonishing work, she was awarded a Primetime Emmy Award for the category of Outstanding Supporting Actress in a Limited Series or Movie in 2018.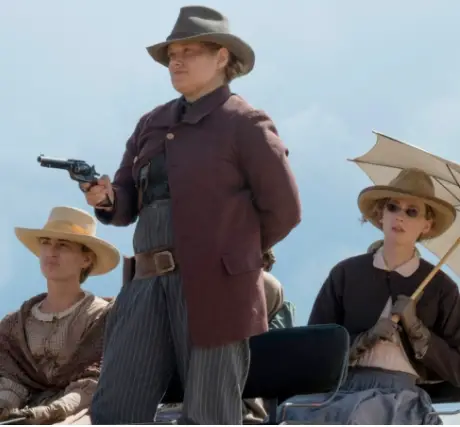 Merritt Wever's character in Godless. (Source: Deadline)
Other Career Highlights and Net Worth
The actress started her acting career in 1995 with a television action film Blue River. Being a newcomer in the industry, most of her initial projects were low-budget, independent, or feature films. 
Some of her notable feature films include Into the wild, Signs, Bringing rain, All I Wanna Do, and so on, while some of the TV series she guest-starred in are New Girl, The Good Wife, Law, and Order, Conviction, and The Wire. 
However, her breakthrough role as Zoey Barkow in Nurse Jackie released in 2009. For the series, she even bagged a Primetime Emmy Awards for Outstanding Supporting Actress in a Comedy Series in 2019 and received four other nominations. 
Later she appeared in several other series such as The Walking Dead in a recurring role, Godless and Unbelievable as the main characters. 
From her raising the actress is estimated to have accumulated a net worth of 5 million dollars, as reported. 
Short Bio
Born on August 11, 1980, Wever was raised in New York. Her mother Georgia, who is a political activist from Texas, conceived Wever via a sperm donor and raised her on her own. 
The actress completed her high school at Fiorello H. LaGuardia High School and enrolled in Sarah Lawrence College for her higher education. Later, she trained in acting in New York.