Mayko Nguyen Married, Lesbian, Family
Canadian actress Mayko Nguyen is best known for her roles in ReGenesis, Anon, Going the Distance, Rookie Blue, and Killjoys, among many others. 
While she was studying at the University of British Columbia, she developed her acting abilities and entered the showbiz field to lead on her dream. 
Mayko first made her acting debut in 2002 starring in the TV series, Mysterious Ways, as Girl #2. Soon, she received a role in the film, Going the Distance, as Jill. 
In a short period, Mayko started receiving a lead and recurring roles on a variety of shows, including Bloodletting and Miraculous Cures, Cracked, Slasher, and so on. 
In her acting career, she has worked more on television than in movies. Fans hope that in the upcoming future, she might make more appearances in the film. 
From her acting career, Mayko has become one of the known celebrity figures in the showbiz industry. 
Mayko Nguyen Married / Dating, Lesbian?
As Mayko's fans and admirers have seen her characters in series and films, she is evidently comfortable in playing different types of roles.
Check Out: Kate Phillips Husband, Family, Net Worth
In the TV series, Killjoys (2015-2019), she played the role of Delle Seyah Kendry, who happens to be lesbian.
From the series, she and her co-stars gave the knowledge about LGBTQ+ to the audience. 
In addition, even though she portrayed the lesbian character very beautifully, in real life, she is very straight. 
Although Mayko has not openly talked about her relationship in detail to the media, rumors have it that she is dating Michael Brushey. 
Whatsoever, even if the fact whether Mayko is married to her possible boyfriend or not is not known, everyone knows that Mayko shares a son with Michael. 
While peeking inside their social media for more details, all indication is pointed towards Mayko and Michael being a thing. 
For instance, on 10th September 2017, Mayko also posted a picture of Michael and their son, where Michael is seen changing the dirty nappy of their son.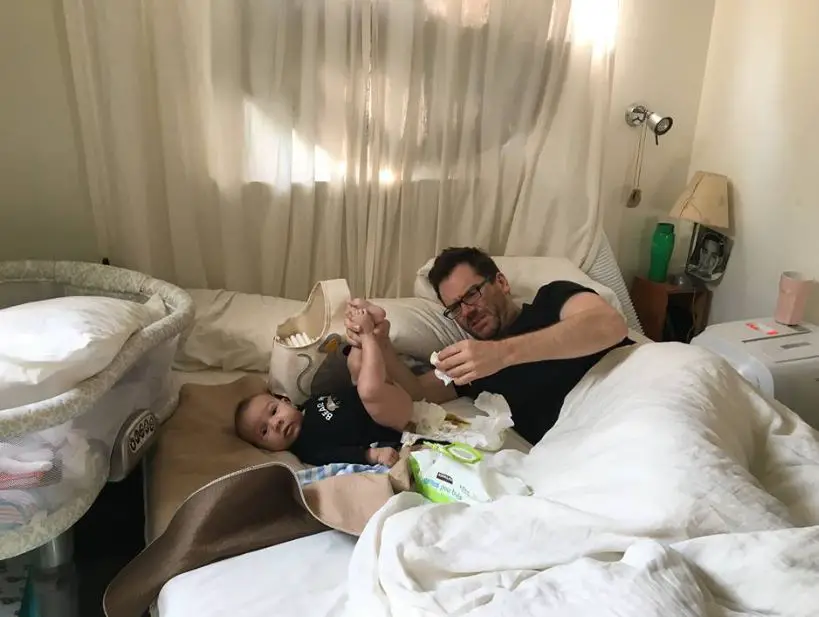 Mayko Nguyen posts a picture of Michael Brushey and her son on 10 September 2017 (Photo: Mayko Nguyen's Instagram)
To make things more complicated, on 28 August 2017, Michael's father, Peter Brushey, even posted a picture of Mayko and her son with the caption, suggesting that he was visiting Mike and Mayko to met his grandson. 
More so, in the present context, neither Mayko nor her possible partner Michael has confronted their relationship open to the public.
Fans hope that, in the future, Mayko feels comfortable enough to talk about her love life openly. 
Short Bio
Mayko Nguyen was born on 19th April 1980 to her parents in Vancouver, Canada.
More Knowledgeable: Maddison Brown Wiki, Age, Boyfriend, Family
More to her family, she has a sister named Naomi Nguyen. 
Born to mixed descent parents, Mayko embraces mixed ethnicity of Vietnamese-Canadian.
She shares a very close bond with every member of her family. Time and again, she posts a picture of her parents on her social media account. 
Moving towards her education, Mayko, age 39, studied at Eric Hamber Secondary School.
Later, after school, she graduated from the University of British Columbia. 
---