Lisa Ann Russell is a former model, actress, and television personality, who is mostly in the limelight because of her personal life– of her relationships with famous names, Jeff Probst and Mark-Paul Gosselaar.
Jeff is an Emmy-winning host of the American franchise of the reality television show Survivor while Mark-Paul is known for his television works Saved by the Bell, NYPD Blue, and Franklin & Bash.
Married Life With Jeff Probst
Lisa Ann Russell has been married to Jeff Probst since 5 December 2011. They tied the knot in a modest ceremony at a private residence in Los Angeles.
Lisa and Jeff began dating in August 2010 after they met at Survivor producer Mark Burnett's holiday party.
About Husband, Jeff Probst Hosting Survivor
Lisa Ann Russell's husband, Jeff, has been hosting Survivor since its inception in 2000. Besides his role as a host, he is also one of the three executive producers of the globally-syndicated show. He won the Primetime Emmy Award for "Best Reality Show Host" repeatedly in the year 2008, 2009, 2010, and 2011.
Look Into Survivor's Brave Contestant: Hayden Moss Bio, Family, Girlfriend, Married
Jeff reads the series' "signature catch-phrase" to failing contestants– "The tribe has spoken. It's time for you to go", which was included in TV Land's "The 100 Greatest TV Quotes and Catch Phrases" in 2006.
Further, he has written a book called Stranded, based on his experiences on the show.
Past Relationship; Children
It was a second marriage for both of them: Lisa was previously married to Mark-Paul Gosselaar (from 26 August 1996 to 27 May 2011), and Jeff was married to Shelly Wright, a psychotherapist (from 1996 to 2001).
Lisa shared two children: Michael Charles Gosselaar (born on 31 January 2004) and Ava Lorenn Gosselaar (born on 7 May 2006), with her ex-husband.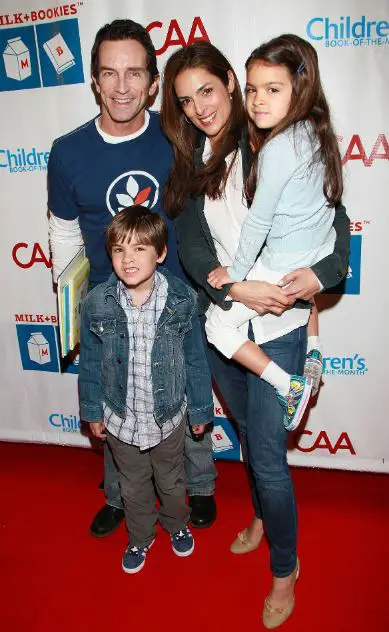 Lisa Ann Russel with her husband, Jeff Probst, and children, Michael Charles Gosselaar and Ava Lorenn Gosselaar (Photo: menhealths.com)
After getting married to Jeff, Lisa and Jeff split the custody of children Michael and Ava with their biological father, Mark-Paul. Speaking to Larry King on Hulu's Larry King Now back in 2012, Jeff revealed how he and Lisa's kids shared a beautiful bonding. His words:
They (Lisa and Mark) had a long marriage and they raised these two young kids. They raised them with the kind of love that—the kids they see me, and he's now remarried, his wife—they just see us as two more parents. We're a blended family, so they are technically—not technically, they are my step-kids—I think of them as mine...
The kids even call him "dad." It was something they started experimenting with way before Lisa and Jeff got married.
Lisa Ann Russell Wiki: Bio, Age
Lisa Ann Russell was born on 21 March 1972 in Sterling, Illinois, the United States. Later at some point, she relocated to Chicago, Michigan, and then to California. There she became a model for Revlon and also went to college.
More Of Survivor: Aras Baskauskas Married, Wife, Girlfriend, Family, Siblings, Height, Bio
Then in 1993, she experienced acting with a guest appearance on Saved by the Bell: The College Years. It was then when she met her former husband, Mark-Paul. The couple got married, and Lisa kept her act in several movies, including Kounterfeit and Twisted Love, which also featured guest appearances from Mark-Paul.